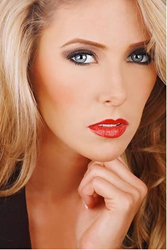 She will be representing luxury car brands such as Braman Bentley, BMW Jupiter, BMW West Palm Beach, MINI, Porsche and Rolls-Royce in Palm Beach County
West Palm Beach, FL (PRWEB) September 22, 2015
Braman Motorcars is proud to announce a stellar addition to its roster of world-class talent with the signing of Celine Pelofi as a 'brand ambassador' between the South Florida luxury car dealerships and their clientele, almost half of whom are women. She will be representing luxury car brands such as Braman Bentley, BMW Jupiter, BMW West Palm Beach, MINI, Porsche and Rolls-Royce in Palm Beach County. Pelofi, a Miami native who now lives in Palm Beach Gardens, was crowned Ms. United States on July 3, 2015.
She will serve as the public face of the dealerships, participating in advertising and marketing campaigns, starring in informational videos, attending Club Braman events and making public appearances. "Celine is an impressive, articulate young woman with a high level of energy and professionalism that fits perfectly with the Braman brand," says Vince Cerone, General Manager and Chief Operation Officer of Braman Motorcars. "Almost half of our customers are women, and having Celine actively involved in enhancing communication and representing our business to this community and create new opportunities for involvement. We're delighted to have her on board."
In addition to her Ms. United States title, Pelofi is a Florida Registered Dietitian and earned her bachelor's degree in science from the Honors College at Florida International University in Miami. Her self-confidence is in part a result of her international experience; she spent a year living and working in South France, has visited more than 14 different countries and speaks 3 languages. She is also actively involved in community service, such as the Salvation Army's 'Weekend Nutrition Program.'
"I've always been outgoing and a communicator, but it was my passion for community involvement that first attracted me to Braman Motorcars," says Pelofi. "It seemed like every time I looked, there was the Braman name in connection with some event or charitable cause in the community. Then I dug a little deeper and discovered what a professional, high-energy organization that Braman is and I was determined to become a part of it. We all just clicked at the first meeting and I'm very excited with my new role and the opportunities it brings." Braman Motorcars' community involvement spans the spectrum, from supporting 'Team USA's' athlete assistance program to sponsoring the new tiger habitat at the Palm Beach Zoo. Virtually every day of the week, Braman Motorcars is participating in activities throughout Palm Beach County. And attending many of these events are members of Club Braman, the dealership's unique membership program that promotes customer involvement long after their new-car purchase. As the new face of Braman, Pelofi will be representing the company at many of these events.
The other organization she will be representing during the coming year is Ms. United States, a division of the Miss United States Organization. Delegates are ages 26-39 female United States citizens. Miss United States Organization gives women the opportunity to promote a platform of community service. The pageant allows women all over the country to interact and discuss their achievements in service and volunteerism. It promotes the intellect, moral character and personal engagement of its outstanding participants as they pursue success in achievement.
For further information, please contact Daniel Bayard: dbayard(at)bramanmc(dot)com
See more about Celine Pelofi here: http://www.msunitedstates.com