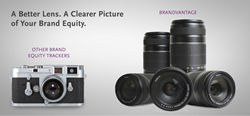 'No one else is doing what we're doing,' said Curt Stenger, VP of Market Analytics, The Pert Group. 'Brandvantage goes beyond the scoreboard watching of outdated brand equity models to deliver strategic roadmaps for brand planning and implementation.'
Hartford, CT (PRWEB) April 02, 2014
A new brand value improvement solution called Brandvantage has been launched by global research-based consulting agency, The Pert Group. The product is a revolutionary approach to brand equity tracking that creates a totally new dimension of brand equity understanding. Brandvantage uncovers the context in which consumers make brand choices, including the influences of occasions and life events, empowering organizations to make more informed sales and marketing decisions. Moreover, the product incorporates an appealing, user-friendly survey interface that keeps respondents engaged with the experience, and goes beyond the traditional brand equity scoreboards to deliver strategic roadmaps for brand growth. The Pert Group is now offering the Brandvantage solution to clients and prospects across all industries.
Brandvantage was developed by The Pert Group largely in response to the ubiquitous frustration among marketing and research teams regarding their existing brand equity trackers. "Brand equity trackers are a critical tool for evaluating the health and value of a brand…but they're notorious for providing marketing organizations with lots of data and then failing to connect the dots between the data and business strategy," said Dale Lersch, CEO, The Pert Group. "Brandvantage is different. It adds dimension and life to the data with co-created roadmaps that help organizations better understand their customers, the market, and where new opportunities lie."
Brandvantage dramatically evolves brand equity tracking with smarter metrics, better data, and superior insights. It recognizes that occasions and life events play a tremendous role in consumers' decisions to buy, use, or avoid a particular brand, and unveils consumer motivations behind brand choices, which in turn helps organizations make more informed decisions on market segmentation, campaign development, creative execution, and more.
In addition to the product's incorporation of contextual insights on consumer decision making, Brandvantage also features a more engaging survey structure that "gamifies" the survey participant's experience with a drag and drop user interface. "A major challenge in survey research is ensuring integrity of the data. If a survey is too long and tedious, participants tend to lose interest which can jeopardize the accuracy of the responses," said Doug Guion, President, The Pert Group. "The user-friendliness of Brandvantage helps retain survey participant interest and engagement, leading to truer, more accurate data."
Organizations that switch their brand equity tracking studies to The Pert Group's Brandvantage will find that the output of the study is more comprehensive, insightful, and useful than other brand equity trackers on the market today. "No one else is doing what we're doing," said Curt Stenger, Vice President of Market Analytics, The Pert Group. "Brandvantage goes beyond the scoreboard watching of outdated brand equity models to deliver strategic roadmaps for brand planning and implementation. Other tracking vehicles focus on long term motivation and that's an incomplete picture of what elevates a brand."
For more information on Brandvantage, visit brandvantage.thepertgroup.com.
About The Pert Group
The Pert Group is a global research-based consulting agency, headquartered in Farmington, CT, with offices in Pittsburgh and London, and sales and service locations in Detroit, Kansas City, Miami, NYC, and San Francisco. Established in 1978, the company integrates qualitative and quantitative capabilities to bring clarity to business, brand, and marketing decision making. For more information, visit http://www.thepertgroup.com.