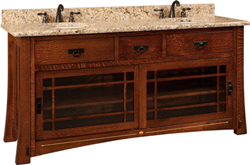 Morgan Sink Cabinets are the ideal choice for new construction or retrofitting an existing bathroom.
SHIPSHEWANA, Ind. (PRWEB) January 31, 2020
Custom-made, solid hardwood furniture should no longer stop at the bathroom door. That's the idea behind Brandenberry Amish Furniture's Morgan Sink Cabinet Collection. It's one of the many bathroom sink collections from the Amish furniture store located in Shipshewana, Indiana.
The freestanding Morgan Sink Cabinet Collection includes three sinks -- 72, 60 and 49 inches wide respectively. The 72-inch sink has double lavatories, while the two smaller sinks have a single bowl. So homeowners can choose the size that best meets their space requirements. Also, the sink cabinets are ready for customers' choice of countertops and faucets.
"The Morgan Sink Cabinets are the ideal choice for new construction or retrofitting an existing bathroom," states Floyd Eash, furniture consultant at Brandenberry Amish Furniture.
Amish cabinetmakers custom-build each sink in the Morgan Sink Cabinet Collection. Also, the builders handcraft the sinks with the same attention to detail as they do while building traditional home furniture. For example, the builders use quality regional hardwoods, such as cherry, oak and maple. The bottom front has a natural wood inlay. This, along with the black, solid pull hardware and exposed tenons add decorative touches to the sinks.
The drawers are built with dovetail joints, renown for strength and durability. In addition, the drawers come with premium soft-close slides. So give them a gentle push, and they close the rest of the way. The mullion glass sliding doors come with clear glass. Smoked glass is optional. Also, the doors are easily removable. This makes cleaning or loading the cupboard space easier.
This bathroom sink cabinet can be paired with a bathroom mirror from Brandenberry Amish Furniture and other solid wood bathroom accessories.
Customers can order their favorite bathroom cabinet from the Morgan Sink Cabinet Collection online or they can visit Brandenberry Amish Furniture's store located in Shipshewana, Indiana near the Michigan and Ohio borders.
About Brandenberry Amish Furniture
Brandenberry Amish Furniture is located at 1045 N. State Road 5 in Shipshewana, at the intersection of State Road 5 and US 20, near the Indiana Toll Road. The store is open Monday through Saturday from 9 a.m. to 5 p.m. and by appointment.
Brandenberry Furniture opened its doors in 2008. The Brandenberry Furniture concept allows customers to design the furniture of their dreams…to explore the rich woods and stains that only nature can offer. Nothing matches the feel, the smell and the weight of hickory, oak, cherry, maple…real woods that come to life in an Amish handcrafted piece. They are meant to last a lifetime and beyond.
Whether a customer's favorite style is Mission, Traditional, Modern or something in between, if Brandenberry Furniture doesn't carry it, their craftsmen will build it to specification.
Brandenberry Furniture offers everything from bedroom and dining collections to home accessories, patio and exclusive furniture pieces. Browse our easy-to-use website with detailed photographs and information, and you'll find furniture categorized by room (including family room, dining room, bedroom, office, children's) as well as by wood species (including oak, hickory, cherry, elm, maple, pine and cedar) and style.