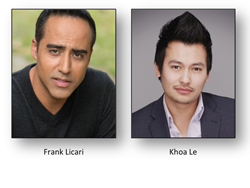 The Brandini Team
Jersey City, NJ (PRWEB) May 27, 2015
On the heels of Kvibe Productions, LLC's successful co-production of the feature length film, Walt Before Mickey, director, Khoa Le, announces new development partnership with Walt Before Mickey, co-producer, Frank Licari of Quite Frankly Productions.
"Frank and I worked closely on Walt Before Mickey and it's only fitting that we continue our partnership and collaborate on future projects, said Khoa Le, founder and director of Kvibe Productions, LLC. Frank not only co-produced the film, he wrote for and helped cast the film. He was an integral part of its success from start to finish."
Licari was named creative director and lead writer, producer of Kvibe last month and will head up the development team for future properties. The first project in their slate will be the feature length film, Brandini, which Licari wrote based upon a true story along with collaboration from the Kvibe developmental team.
"It's a real unique way to write and conceive projects," said Licari. "Normally I've written all my projects on my own but having a developmental team to build story and character with is a very unique setup."
Brandini is the story of a young classical music prodigy who fights against a strict and rigid upbringing struggling to establish himself in the pop music world. "This film has everything you'd want in a story; a hero who deals with loss of love and personal hardship in order to overcome and win in the end," remarked Licari. "Khoa and I both grew up in music and went on to study before deciding to change directions. We know what it feels like to realize you've made the wrong choice for your life and all the challenges that it can bring."
Brandini will also feature a collaboration with former wall street insider, Ryan Sylvestre, who will be heading up the financing and strategic development side of the company. "Ryan has been an invaluable source to me in building up Kvibe Productions." said Le "It just made sense to have him join Frank and I in this new endeavor."
The new partnership is now in the financing stage and looking to attach name talent to the property. Pre-production has been scheduled for August 2015 with cameras scheduled to role by November.
# # #