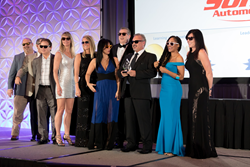 Excellence Award winners personify innovation that drives business results
DELRAY BEACH, Fla. (PRWEB) August 24, 2018
The 24th annual HCM Excellence Awards recognize organizations that have successfully deployed human capital management programs, strategies, processes, systems, and tools that have achieved measurable results for the company.
Brandon Hall Group executives announced Gold, Silver, and Bronze awards in six divisions and more than 80 categories. Winners include organizations in almost every major industry. They include such global organizations as Accenture, Bank of America, Bayer, Capgemini, Cisco Systems, Cognizant, CrossKnowledge, Dell EMC, Deloitte, Dish Network, EY, Genpact, Google, GP Strategies, HCL Technologies, HP, IBM, Intel, Johnson Controls, McKinsey and Company, Mercer, MetLife, NIIT, Noggin Labs, PepsiCo, PwC, Royal Dutch Shell, SAP, Siemens, Sweetrush, Tata Consultancy Services, Walmart, and World Bank.
For a complete list of winners, please visit the following pages: Learning and Development, Talent Management, Leadership Development, Talent Acquisition, Workforce Management, and Sales Performance.
"Excellence Award winners personify innovation that drives business results. Our winners embrace the future and embrace change and the challenges that go with it," said Rachel Cooke, Chief Operating Officer of Brandon Hall Group and head of the awards program. "It is amazing in reviewing these entries how organizations – both large and small – work across functions to make human capital management a valuable asset that enables business success."
Excellence Awards winners will be honored at Brandon Hall Group's HCM Excellence Conference, January 23-25, 2019, at the Hilton West Palm Beach in Florida. Select winners also will serve as presenters in breakout sessions sharing their leading practices during the 2½-day conference.
"The excellence of our award winners allows us to create unique content that actively involves attendees and gives them proven solutions to adapt to their own environment when they get home," Brandon Hall Group CEO Mike Cooke said. "The conference also affords these award winners some well-deserved recognition and validation for the risks they took to take HCM to the next level in their companies."
Select award-winners will have their story written into a case study and made available to Brandon Hall Group members in the coming months.
Brandon Hall Group also offers a fall awards program, the Excellence in Technology Awards, for corporations and solution providers that implemented advanced technologies in support of human capital management. Award entries are due Sept. 7 and awards are announced in Dec. 6 in an online event.
For details on a Brandon Hall Group Membership or to learn more about our Awards Program, visit us at http://www.brandonhall.com, or contact Mike Cooke at (561) 306-3576 or mike.cooke(at)brandonhall.com.
About Brandon Hall Group, Inc.
Brandon Hall Group is a HCM research and advisory services firm that provides insights around key performance areas, including Learning and Development, Talent Management, Leadership Development, Talent Acquisition, and HR/Workforce Management.
With more than 10,000 clients globally and 25 years of delivering world-class research and advisory services, Brandon Hall Group is focused on developing research that drives performance in emerging and large organizations, and provides strategic insights for executives and practitioners responsible for growth and business results.
Our mission: Empower excellence in organizations around the world through our research and tools each and every day.
At the core of our offerings is a Membership Program that combines research, benchmarking and unlimited access to data and analysts. The Membership Program offers insights and best practices to enable executives and practitioners to make the right decisions about people, processes, and systems, coalesced with analyst advisory services which aim to put the research into action in a way that is practical and efficient.