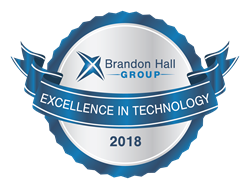 DELRAY BEACH, Fla. (PRWEB) December 07, 2018
Brandon Hall Group, the leading independent Human Capital Management research and analyst firm, announced the recipients of its 2018 Excellence in Technology Awards. Now in its 25th year, the program bestows nearly 220 Gold, Silver and Bronze awards in 51 categories. Entries were evaluated by a panel of veteran, independent senior industry experts, and Brandon Hall Group analysts and executives based upon the design of the solution, solution functionality, usability, innovation and overall measurable benefit to the organization.
Organizations receiving multiple awards this year include Verizon and Promote International with five each; Abilities, IMD, Intrepid by VitalSource and Litmos by SAP with four awards; and Capgemini, CrossKnowledge, Fulcrum Labs, GE, GP Strategies, Healthstream, HT2 Labs, JobVite, Knolskape, LearnUpon, Saba, Talemetry, UpsideLMS and Vector Solutions, each with three awards.
A complete list of this year's honorees is posted at: http://www.brandonhall.com/excellenceawards/excellence-technology.php?year=2018
"We're proud to honor the innovators. As human capital management continues to evolve, the creativity of the award winners is breathtaking. Organizations of all sizes showed that creativity and technology can create new and better work experiences for businesses and their employees," said Rachel Cooke, Chief Operating Officer of Brandon Hall Group and head of the awards program.
"We were blown away," said Mike Cooke, Chief Executive Officer of Brandon Hall Group. "Our research was confirmed by the entrants' responsiveness to the needs of employers who seek to align technology to the goals of their businesses. Every entry embodied a win-win proposition for employers and employees."
Winners of the Technology Awards, along with 2018 Excellence Awards honorees (announced earlier this year) will be celebrated at Brandon Hall Group's HCM Excellence Conference on Thursday, January 24 in West Palm Beach, Fl. For more details, visit: http://brandonhall.com/excellenceconference.
The 2019 Brandon Hall Group Awards Program for Excellence in Learning & Development, Talent Management, Leadership Development, Talent Acquisition, Workforce Management, Sales Performance and Corporate Initiatives will be open for submissions beginning January 7th. For more information, visit http://www.brandonhall.com/excellenceawards or contact awards@brandonhall.com.
About Brandon Hall Group (http://www.brandonhall.com)
Brandon Hall Group is an HCM research and advisory services firm that provides insights into key performance areas, including Learning and Development, Talent Management, Leadership Development, Talent Acquisition and HR/Workforce Management.
With more than 10,000 clients globally and 25 years of delivering world-class research and advisory services, Brandon Hall Group is focused on developing research that drives performance in emerging and large organizations and provides strategic insights for executives and practitioners responsible for growth and business results.
At the core of our offerings is a Membership Program that combines research, benchmarking and unlimited access to data and analysts. The Membership Program offers insights and best practices to enable executives and practitioners to make the right decisions about people, processes and systems, coalesced with analyst advisory services which aim to put the research into action in a way that is practical and efficient.
For more information, please contact Mike Cooke: (561) 865-5017 or mike.cooke@brandonhall.com