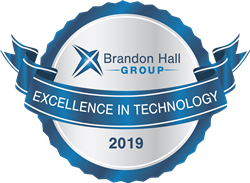 Excellence in Technology Award winners are the best of the best. Their innovation and creativity aren't merely theoretical. Their tenacity and hard work drive business results
DELRAY BEACH, Fla. (PRWEB) April 29, 2019
The Excellence in Technology Awards are for companies that develop or implement a technology that measurably impacts human capital management. Solution providers and user organizations that successfully deployed programs, strategies, modalities, processes, systems and tools are invited to submit applications.
The 2019 Fall Excellence in Technology Awards Program includes more than 50 categories in five program areas:

Learning & Development Technology
Talent Management Technology
Workforce Management Technology
Talent Acquisition Technology
Sales Enablement Technology
"Excellence in Technology Award winners are the best of the best. Their innovation and creativity aren't merely theoretical. Their tenacity and hard work drive business results," said Rachel Cooke, Chief Operating Officer of Brandon Hall Group and head of the awards program. "They know that HCM technology must have heart and purpose to create value and impact."
"Year after year, the breadth and scope of the award winners' entries confirm many of the technology needs uncovered by our research," Brandon Hall Group CEO Mike Cooke said. "We're always thrilled to see them addressed in such creative and imaginative ways."
The awards are open to solution providers that offer technologies to Learning & Development, Talent Management, Human Resources and Sales Functions or organizations with technology functions or departments. Solution providers and technology organizations may enter alone or jointly with client organizations.
For more information about Brandon Hall Group's 2019 Fall Excellence in Technology Awards Program and to download the entry form, please visit our website. http://www.brandonhall.com/excellenceawards/index.html
---About Brandon Hall Group Inc.
Brandon Hall Group is an HCM research and advisory services firm that provides insights around key performance areas, including Learning and Development, Talent Management, Leadership Development, Talent Acquisition and HR/Workforce Management.
With more than 10,000 clients globally and 25 years of delivering world-class research and advisory services, Brandon Hall Group is focused on developing research that drives performance in emerging and large organizations, and provides strategic insights for executives and practitioners responsible for growth and business results.
At the core of our offerings is a Membership Program that combines research, benchmarking and unlimited access to data and analysts. The Membership Program offers insights and best practices to enable executives and practitioners to make the right decisions about people, processes, and systems, coalesced with analyst advisory services which aim to put the research into action in a way that is practical and efficient. (http://www.brandonhall.com)