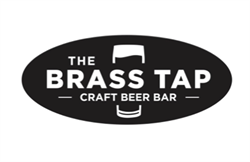 ROUND ROCK, TEXAS (PRWEB) February 29, 2016
After battling it out against America's best beer bars, it was announced that The Brass Tap in Round Rock, Texas has emerged victorious as the "Best Beer Bar" hailing from the Lone Star State in CraftBeer.com's "51 Best Beer Bars in America" poll.
The upscale craft beer and wine bar was crowned the decisive Texas favorite after more than 9,000 participants casted votes on a CraftBeer.com survey between August and December of last year. The Brass Tap team found out they had taken the top spot in Texas, beating out the big city bars, weeks ago, but had to remain tight-lipped until the February 23rd release.
"We are truly honored by this recognition of our craft beer bar," said Steve Sheets, owner of The Brass Tap in Round Rock. "What makes this honor so special is that we were selected based on the nomination and votes of our customers. That's pretty amazing when you consider that we were competing against all of the great craft beer bars in Dallas, Houston, Austin and the rest of the state of Texas."
Brass Tap owner Steve Sheets teamed up with his son to bring the brand to the Austin area three years ago. Since then they've drawn a steady crowd of Central Texas's most enthusiastic beer lovers with more than 60 draughts and 200 bottled and canned varieties. Late this spring, Sheets will open his second Brass Tap location in Austin at the popular Domain shopping center.
"Steve is such a great brand ambassador and is leading the charge of The Brass Tap development throughout the Austin area," said Brass Tap CEO Chris Elliott. "Widely regarded as one of the top craft beer cities in America, it's quite an honor for Steve and The Brass Tap to be recognized this way by local beer enthusiasts."
With more than 30 open units and 50 upcoming openings, The Brass Tap is positioned to quadruple in size in the Southeast in the next few years.
ABOUT THE BRASS TAP
Founded by Jeff Martin in 2008, Tampa, Florida based The Brass Tap is an upscale craft beer and wine bar celebrated for its more than 300 varieties of imports, local craft beers and a large selection of premium wines and cigars. With more than 30 open units and 50 upcoming openings, The Brass Tap is positioned to quadruple in size in the Southeast and beyond. In June 2012, Beef 'O' Brady's acquired the rights to franchise The Brass Tap. For more info, visit http://www.brasstapbeerbar.com.
###