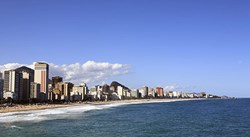 This investment is supported by a multinational hotel group with a strong track record.
(PRWEB UK) 14 November 2013
Colordarcy are giving investors an opportunity to invest in a fully managed hotel room at the four-star Mercure hotel which will be built in Natal, one of Brazil's most popular holiday destinations.
The Mercure brand is part of global hotel group Accor and this investment is the first of its kind in Natal to give investors the opportunity to gain a share of the profit generated by each hotel room.
Loxley McKenzie, Managing Director of Colordarcy commented, "Hands free investments are becoming more popular and this Brazil hotel investment is ideal for those investors who want all the high growth benefits of investing in an emerging market without many of the risks normally involved.
The fact that this investment is supported by a multinational hotel group with a strong track record means investors have little to worry about. The investment is also managed by the hotel itself, which gives investors who may be located several thousand miles away piece of mind that their asset is being well looked after."
The hotel rooms are available from £110,000 and on payment terms of 40 percent down and the remainder on completion.
McKenzie added, "One of the best aspects of this investment is the 5% return investors will continue to receive on their 40% downpayment prior to completion. In the unlikely event that the project is delayed, this investment still generates an income."
According To Colordarcy, investors also get to own 100% of the hotel room at 25% below the market price, therefore equity is locked in from day one with this investment.
Occupancy rates at the hotel which will be in one of the best locations close to the beach in Ponta Negra, Natal are expected to be close to 80%.
Looking at the longer term, the value of the room itself is expected to grow by 6.5% per annum and room rates are expected to continue rise. This can make an ideal nest egg investment for the future according to Colordarcy investment analysts.
Notes to the editor:
Colordarcy is a leading property investment company that specialises in finding positive cash flow investment properties worldwide. Their aim is to provide their clients with properties that offer the unique combination of strong growth returns and cash flow positive income.
Investing in positive cash flow property significantly reduces the risk because the property will pay for itself regardless of market conditions, employment status or other financial commitments.
Colordarcy provides complete support before, during and after a sale, including finding tenants, financial assistance, viewing trips and currency services. Colordarcy are proud members of the 'Association of International Property Professionals' (AIPP), and abide by its code of conduct, one established to protect the buyer, by ensuring members follow professional guidelines and procedures.
Colordarcy investment property portfolio includes some of the best properties for sale in Brazil, Florida, Turkey and the United Kingdom.
For more information, supporting pictures or logo artwork, please contact:
Brett Tudor
PR Manager
Tel: +44 (0) 207 100 2393
Email: press(at)colordarcy(dot)com
Web: http://www.colordarcy.com/
Colordarcy Investment Ltd
28 Leman Street
London
E1 8ER