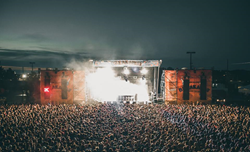 "We are thrilled to welcome Breakaway Michigan to Grand Rapids. This event is a great addition to our city's vibrant music scene, and I am looking forward to checking out the lineup of musicians."-Rosalynn Bliss, Grand Rapids Mayor
Grand Rapids, Michigan (PRWEB) April 11, 2017
Breakaway Michigan is slated to take place Aug. 25-26, 2017, and will offer a massive mash-up of headlining and up-and-coming contemporary acts that breakaway from traditional music genres to one of the fastest growing cities in the Midwest.
Mayor of Grand Rapids Rosalynn Bliss is excited for news to come of Breakaway Michigan. "We are thrilled to welcome Breakaway Michigan to Grand Rapids," she said. "This event is a great addition to our city's vibrant music scene, and I am looking forward to checking out the lineup of musicians."
"Grand Rapids has so much to offer the Breakaway brand, that we felt as a company it was a natural fit for this type of two-day, multiple genre festival," said Adam Lynn, co-founder and managing partner of Prime Social Group. "It's a thriving city in the Midwest and the craft beer capital of the country plus shows a consistent increase in the population of young professionals in the region. We are excited about the proximity of Grand Rapids to many major universities in Michigan. As an alumni of the University of Michigan it's been my goal to bring a major event like this to the Wolverine State!"
In 2016, Breakaway Music Festival brought in over 20,000 attendees to Columbus, OH, with notable acts including Chance The Rapper, Rae Sremmurd (of "Black Beatles" fame), Dillon Francis, Young Thug, Benny Benassi and RL Grime.
"The concept of Breakaway is one I know music fans in West Michigan will absolutely love," said Jenna Meyer, marketing director of MiEntertainment Group. "We look forward to expanding the music and arts scene in West Michigan by bringing an interactive, engaging and truly unique festival experience to Grand Rapids!"
Early bird tickets will be available Friday, April 14, at 12PM EST. To become a part of the Breakaway Music Festival fan club and receive offers on club shows and festivals throughout the year, visit http://www.primesocial.com/newsletter. For more information, visit http://www.breakawayfestival.com.