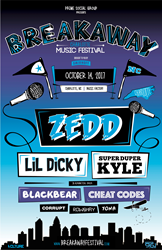 Zedd is not only at the top of his career, he makes music that stands the test of time
Charlotte, North Carolina (PRWEB) June 21, 2017
Zedd, the Billboard chart topper, is one of electronic dance music's most respected tastemakers with international hits including "Clarity" and "I Want You To Know." His big room sound will bring together music lovers from North Carolina and beyond, festival organizers explain.
"Zedd is not only at the top of his career, he makes music that stands the test of time," said Adam Lynn, managing partner of Prime Social Group. "We were looking for a headlining act to best represent the Breakaway Music Festival brand and he does just that."
Listen To Zedd's New Single "Stay" Featuring Alessia Cara Here
This one-day event will be held at the AvidXchange Music Factory (formerly the popular NC Music Factory) on its festival grounds. AvidXchange is a one-stop shop for live music, dining and entertainment along NC Music Factory Boulevard. Charlotte was chosen as the third market to bring Breakaway Music Festival to because of what Lynn says is a "music loving, open-minded and intelligent mix of young professionals" that resonate well with the festival brand.
The Charlotte, NC, expansion of Breakaway Music Festival will also include performances by famous-for-freestyling rapper Lil Dicky, Blackbear (whose single "Do Re Mi" just surpassed 50 million streams on Spotify), Cheat Codes (who recently released the feel good summer anthem "No Promises" with Demi Lovato) and Kyle.
Early Bird tickets have now sold out! General Admission tickets start at $50 and are available now. For more ticketing options plus information on topics including vending, local support or general festival inquiries visit http://www.BreakawayFestival.com.
Additional information can be found on Facebook, Instagram and Twitter using hashtag #BreakawayCharlotte and by following @BreakawayFest.