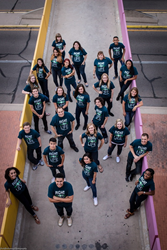 We want every person who sees our show to walk away knowing that their past doesn't have to define their future, and that their life matters and is worth fighting for.
Tucson, AZ (PRWEB) November 24, 2015
According to the CNN article, students at Cañon City High School exchanged hundreds of nude photos of themselves, prompting a felony investigation by police and the forfeiture of a football game because many players had been implicated in the sexting scandal. The police began investigating after the district received student reports about the sexting.
"One of the messages BreakDown delivers is that it is OK to inform authority figures about such incidents, as there probably isn't a high school in our country that hasn't dealt with the issue of sexting to some degree and students don't realize that a momentary decision like sexting can negatively impact them for months or even years to come," said David Hughes, manager of BreakDown Tucson. Teens are bombarded with harmful messages and inaccurate information every day, and are engaged in risky behavior that can have life-altering effects, and we want to bring a message of hope in the midst of it."
BreakDown has been bringing this message into high schools and middle schools in the Tucson area since 2001 by presenting an exciting 60-minute performance that aligns with the Arizona Department of Education standards for Health Education. This peer-to-peer interaction that combines drama, dance, spoken word, video professional lighting and sound, creates a relevant and raw performance that is thought-provoking. During the course of the presentation, students at area schools are confronted with a plethora of issues, such as sexting, that many might find difficult to discuss, which also includes drugs, alcohol, bullying, sex, suicide, relationships, STIs, rape, cutting, teen pregnancy, abuse and more.
So often people feel like these issues are too hard to talk about, and that it is better to act like the problems don't exist rather than drawing more attention to them by addressing them. However, BreakDown believes that silence kills, and that the solution to the problem is found in facing these issues head on and equipping and empowering students to fight for their futures and value their lives by making healthy life choices.
"Our aim is to educate, inspire and challenge students to make decisions now that will positively impact their futures, as we want students to live lives without regret, but we also want students to know that it is never too late to start making better decisions," said Hughes. "We want every person who sees our show to walk away knowing that their past doesn't have to define their future, and that their life matters and is worth fighting for."
For more information and to take advantage of this local resource by booking a performance for your school or community group, please call (520) 321-9765, or visit http://www.breakdowntucson.com/book-an-event/.
About BreakDown Tucson
BreakDown Tucson provides students with tools, facts and resources that equip them to handle some of the extremely difficult situations that teens face on a daily basis. BreakDown Tucson has performed in middle schools and high schools throughout the Tucson area reaching teens through its impactful, unique performances, as well as reaching teens in churches, youth groups and community organizations throughout the calendar year.
About the NALA™
The NALA offers local business owners new online advertising & small business marketing tools, great business benefits, education and money-saving programs, as well as a charity program. For media inquiries, please call 805.650.6121, ext. 361.