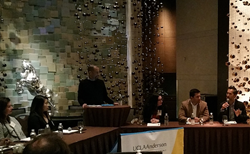 "It is imperative for companies from around the world to target expansion into new markets," Dr. Mirei Takashima Claremon
LAS VEGAS (PRWEB) January 07, 2019
January 2019 | During the Consumer Electronics Show (CES), Elavare and the UCLA Anderson School of Management will be co-hosting a panel that seeks to unpack the challenges of cross-border market expansion and bringing ideas to market. Panelists consist of Anderson alumni and students, including experts from various industries, who will offer cross-cultural insights into the realm of technology.
"Traditional retail paradigms and business models are exposed to rapid disruption due to a number of factors, including technological advancements, evolving consumer expectations, and the ascendance of a globally- dispersed middle class," says Dr. Mirei Takashima Claremon, a panel participant and Senior Advisor with the management consulting firm, Elavare.
Panelists expect to analyze what works--and what creates unnecessary risk--as it relates to cross-border strategy.
In addition, panelists will explore how companies can expand outside of their home markets despite emerging challenges facing businesses. Current uncertainty is fueling the need for partners with global business expertise, as companies scramble to protect their home territories and grow internationally within a changing trade environment.
"As a result of heightened international trade tensions and secular changes in consumer behavior, it is imperative for companies from around the world to target expansion into new markets," according to Dr. Takashima Claremon.
The event is open to everyone in the Las Vegas area and a registration with CES is not required.
About Elavare
Elavare is a turnkey management consulting firm composed of seasoned professionals who possess extensive operational and managerial expertise in cross-border business between North American and Asian markets. Strategically based in Los Angeles, California, the firm specializes in providing services to businesses looking to expand internationally.
Contact Information
For additional information, visit elavare.com or contact executive@elavare.com. Inquiries may also be made to Elavare corporate office at 310.209.8260.
###