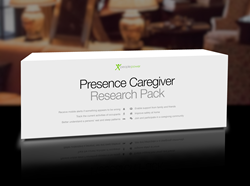 "There's a tremendous need to dramatically lower the cost of home care while helping seniors live in their homes longer. This project has already produced significant advancements in how senior and family care services can be delivered with today's best technology and research", said Gene Wang, CEO
PALO ALTO, Calif. (PRWEB) March 09, 2020
People Power, a leading healthtech software company providing AI-powered services for senior care, announces today the availability of a caregiving system – Presence Caregiver – designed to address the everyday challenges of providing care for people with Alzheimer's and other dementias. The free program is offered to caregivers living with a person who has received a diagnosis of dementia or mild cognitive impairment. Participating caregivers must be literate in English, have a smartphone and wireless internet connectivity in the home, and be willing to participate in intermittent study activities. Participants will receive the Presence Caregiver Research Pack and mobile app at no cost, a free Amazon Echo upon installation of the system, and each caregiver will earn at least $150 for completing quick-and-easy questionnaires.
Key findings from the collaborative study will reveal how an intelligent connected solution can be designed to assist in the effort of delivering better care for people with dementia while addressing all-too-common feelings of isolation, stress and loneliness of caregivers. The program is led by People Power and University California Berkeley's Psychophysiology Laboratory, headed by Dr. Robert W. Levenson.
Visit https://research.presencefamily.com to answer 4 simple questions to see if you qualify to participate in this program.
"The next generation of truly intelligent home care systems must significantly improve the lives of caregivers and patients alike", said Gene Wang, CEO and cofounder of People Power Co. "There's a tremendous need to dramatically lower the cost of home care while helping seniors live in their homes longer. This project has already produced significant advancements in how senior and family care services can be delivered with today's best technology and research."
The Presence Caregiver Research Pack includes a variety of sensors that are installed in the home, similar to a security system, but without cameras. The sensors gather continuous pattern motion data and, using Artificial Intelligence (AI), create a safety net for the home that alerts caregivers to potential hazards. Data from sensors fuel a menu of helpful services that perform continuous monitoring of occupants. The easy-to-use mobile app connects to and integrates with the wirelessly connected sensors to help understand the real-time and historic activities in the home, distributes alerts, connects with a Trusted Circle of family and friends, and more.
The Presence Caregiver Research Pack provides a variety of helpful caregiving services:
Receive mobile alerts if something appears to be wrong

Know if someone wandered away from home
Know if they have likely experienced a fall
Track the current activities of occupants

Know if and when the front door opened
Know when medication was accessed
Better understand rest and sleep patterns

Know what time they went to bed and got up
Track sleep history and quality for improved health insights
Enable support from family and friends

Create and delegate helpful tasks to others
Coordinate family and friends to stay in contact
Improve safety at home

Call for help with the wirelessly connected button
Know immediately of a water leak or clogged toilet
Enjoy voice control services with Amazon Echo

Easily request helpful reminders to take medications
Make phone calls, check weather, and play music
Join and participate in a caregiving community

Connect with and receive online advice from caregivers
Get invited to in-person meetings with fellow caregivers
The program is supported by the National Institutes of Health's National Institute on Aging through a Small Business Innovation Research grant, #R44 AG059458-01
About People Power
An IoT software company specializing in the development of consumer services for senior care, energy management and home security, People Power leads the industry with advanced AI-powered connected home solutions delivered through brands seeking recurring revenue business growth. For more information visit peoplepowerco.com