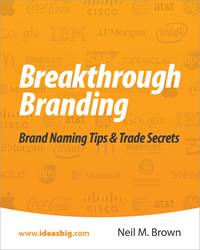 Naperville, IL (PRWEB) October 15, 2014
A new book shares in-depth insights into the specialized process of brand naming. Titled Breakthrough Branding: Brand Naming Tips & Trade Secrets (ISBN# 9780984931927), the 108-page paperback is now available through Amazon.com and other retailers.
Breakthrough Branding is a complete resource for brand name development including product and business naming, tagline development, trademarks, and domain names. In addition, the book includes several detailed case studies and naming resources.
Author Neil M. Brown is Chief Branding Officer for IDeas BIG (brand identity group), and a frequent author and contributor to marketing-related magazines.
"Brand naming is arguably the most critical and foundational of all marketing initiatives, yet little is known about the processes and tools to develop effective, let alone breakthrough brand names," states author Neil M. Brown.
To order Breakthrough Branding, please link to: Brand Naming Tips & Trade Secrets.
About IDeas BIG
IDeas BIG (brand identity group) is a Chicago (Naperville), IL-based branding agency that specializes in logos and visual identity, brand name development and strategy for global corporations, start-ups, and more. IDeas BIG has been recognized with over 50 national awards for creative excellence and marketing effectiveness. For more information, contact IDeas BIG at 630.868.5061 or visit http://www.IDeasBIG.com.