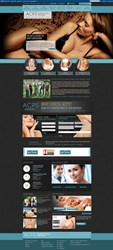 Houston, TX (PRWEB) December 17, 2013
Aesthetic Center for Plastic Surgery is proud to announce that they have recently launched a new, updated website.
The new website uses technology that adapts the site to fit different devices and screen sizes. With this new responsive design, online visitors can easily peruse the site from their smartphone, tablet or other mobile device. In addition, hundreds of new photos have been added to the website's before and after photo gallery, which is one of the site's most popular pages.
The website spotlights the cornerstones that built and established the Aesthetic Center for Plastic Surgery as one of the largest and most successful private cosmetic plastic surgery practices in Texas. This includes the array of "Added Touch" services that are integrated into each patient's surgical plan to speed healing and provide a more comfortable recovery experience.
"ACPS surgeons have always felt that the educated patient is the best patient," said Karen Husmann, the ACPS Practice Administrator. "The new site is packed with useful information to help patients make educated choices. We have patients find ACPS on the web and fly to Houston from all over the world to be treated by our doctors."
To view the Aesthetic Center for Plastic Surgery's new website, visit http://www.mybeautifulbody.com/.
About the Company:
The professional staff at the Aesthetic Center for Plastic Surgery in Houston is carefully selected and is dedicated to providing services that will exceed expectations. The Aesthetic Center for Plastic Surgery specializes in body contouring procedures such as liposuction, tummy tucks and mommy makeovers, as well as facial rejuvenation procedures such as facelifts, browlifts, eyelid surgery and rhinoplasties. They also do breast procedures, including breast augmentation s, breast lifts and breast reductions. Founded in 1996 by Dr. Christopher K. Patronella, Dr. Henry A. Mentz, III and Dr. German Newall, the Aesthetic Center for Plastic Surgery is one of the largest private plastic surgery centers in Texas, distinguished by the highest quality of personal service, commitment to safety, patient confidentiality and superior results. For more information, visit http://www.mybeautifulbody.com/.