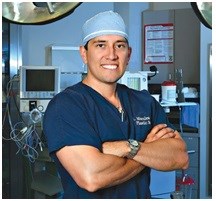 Houston, TX (PRWEB) December 02, 2013
Dr. Rolando Morales, a doctor at the Aesthetic Center for Plastic Surgery (ACPS), reports that he has seen a rise in the number of Hispanic patients seeking his services.
According to a report published by the American Society of Plastic Surgeons, plastic surgery is on the rise in every ethnic group, except whites. The report indicates that the largest increase is occurring among Hispanics, with an 18 percent increase nationwide. Dr. Morales has noticed a similar increase in his clientele.
"I have noticed an increase in the number of Hispanics that come in for plastic surgery," he said. "Many of them are looking for minor changes, such as lip augmentation. I think it is a sign that the Hispanic community is economically stronger than most expected."
The rise in the use of plastic surgery by diverse ethnicities may indicate the strength of those groups' economic positions. The report, gathered shortly after the most recent economic downturn seems to indicate that particularly the Hispanic community may not have experienced the economic downturn to the same degree as the wider population.
"The Houston economy has weathered the national recession better than the rest of the nation. The Hispanic ethnicity is the dominant ethnicity in Houston, and this is reflected in my practice. I have seen a steady increase in Hispanics seeking nonsurgical cosmetic surgery. Facial injectables, such as fillers and toxins, are the most common nonsurgical procedures requested," said Dr. Morales.
Dr. Morales joined ACPS in 2012. ACPS was founded in 1996, and is currently ranked as the largest private plastic surgery center in Texas. As an experienced plastic surgeon known for his personable nature, Dr. Morales has set the standard high for young plastic surgeons in Houston and across the United States. His ground-breaking research on Exaparel®, a long acting local anesthetic, has received national attention. In his first year of professional practice, he has presented research at both national plastic surgery meetings, an honor many surgeons will never get in their lifetime. Most recently, his article on Exparel® was accepted for publication in the Aesthetic Surgery Journal, and has another article up for consideration. For more information, visit the ACPS website at http://www.mybeautifulbody.com/.
About the Company:
Dr. Rolando Morales is an reconstruction and plastic surgeon for the Aesthetic Center for Plastic Surgery. As an experienced and ambitious plastic surgeon, Morales consistently produces excellent results and provides the level of safety, care, and attention his patients expect and deserve. Dr. Morales was born in Galveston and raised in the Greater Houston Area. Heavily influenced by his father, Dr. Morales came to love medicine and surgery in particular. As a member of ACPS's team, Dr. Morales believes in cultivating a culture of care and compassion, offering interactive care and consultations, presenting clients with a wide range of treatment options, practicing frank and honest disclosure and upholding complete doctor-patient confidentiality. Dr. Morales specializes in treatments for the eyelids and face, as well as breast lift, breast augmentation and reduction, body enhancement procedures, plastic surgery for men. Face treatments include brow lifts, rhinoplasty, and blepharoplasty. Body treatments include tummy tucks, liposuction, body lifts, and arm lifts. Additional information can be found at http://www.mybeautifulbody.com/.