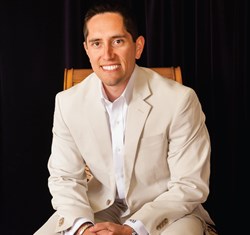 I'm dedicated to give you the best natural aesthetic results possible in an environment that will make you feel relaxed and pampered.
Houston, TX (PRWEB) February 03, 2014
Gifts for Valentine's Day have traditionally been roses and chocolates. Increasingly, notes Dr. Rolando Morales of Houston, Texas, couples are treating each other and themselves to cosmetic surgery. These life-changing procedures, including non-invasive changes, can restore self-esteem and passion to a person's life.
"Valentine's Day is about showing our love to each other," said Dr. Morales. "For many of us, feeling better about our appearance can go a long way to making us feel more romantic. That is what cosmetic surgery offers. Whether it is Botox for wrinkles or a breast lift, a tummy tuck or chest etching, helping our loved one look better can help them feel better. That will only lead to more romance. After all, nothing is sexier than feeling great."
Bringing his warm personality and sensitivity to his patients at the Aesthetic Center for Plastic Surgery, Dr. Morales provides a gentle, spa-like feel to his procedures. This enhances the feeling that giving the gift of plastic surgery can be a wonderful and romantic gift. From his offices in Houston, he has helped hundreds of women and men get the body of their dreams, affordably and safely.
Give the gift of plastic surgery to a loved one this Valentine's Day and help them feel great about how they look. Schedule a visit or consultation with Dr. Morales by calling the ACPS at 713-354-5119. Additional information can be found at http://www.DrMoralesPlasticSurgery.com.
About the Company:
Dr. Morales is a plastic and reconstructive surgeon for the Aesthetic Center for Plastic Surgery. He joined the prestigious practice in 2012. ACPS was founded in 1996, and is currently ranked as the largest private plastic surgery center in Texas. As an experienced plastic surgeon known for his personable nature, Dr. Morales consistently produces excellent results and provides the level of safety, care and attention his patients expect and deserve. Dr. Morales specializes in treatments for the eyelids and face, as well as breast lift, breast augmentation and reduction, body enhancement procedures and plastic surgery for men. Face treatments include brow lifts, facelift and blepharoplasty. Body treatments include tummy tucks, liposuction, body lifts and arm lifts.