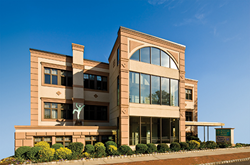 "We don't want any of our patients to need chemotherapy, that's our goal," says Dr. Elliott, Director of Montclair Breast Center.
Montclair, NJ (PRWEB) December 31, 2014
Established in 1989 by Dr. Nancy Elliott, Montclair Breast Center has achieved an unprecedented 100% success rate in detecting early stage breast cancers*.
One of the first Fellowship-trained breast surgeons in the United States, Dr. Elliott dedicated her practice to the early detection and treatment of breast cancer. "We don't want any of our patients to need chemotherapy, that's our goal," says Dr. Elliott. Breast Hospital of New Jersey (BHNJ) expands on this goal. Located at 37 N. Fullerton Ave., Montclair, New Jersey, BHNJ houses Montclair Breast Center, The Plastic Surgery Group and North Fullerton Surgery Center and provides advanced technology including breast tomosynthesis (3D mammography), breast MRI, and the latest surgical equipment. The entire facility provides private, discreet and comforting care that is not found in even the nation's best known breast centers.
Seamless quality of care defines the Breast Hospital of New Jersey's alliance. To better understand this remarkable multi-disciplinary facility, read their patient testimonials at http://www.breasthospitalofnewjersey.com/testimonial.html; their experiences define the benefits of this unique breast care alliance.
The Breast Hospital of New Jersey is patient-centered, with unfailing warmth and caring enhanced by the best possible technology and clinical care available. With each part of our private breast care alliance just steps away from the other, our patient experience is unmatched, with privacy, ease of scheduling and a thoroughly coordinated individualized plan of care. Founder Dr. Nancy Elliott is one of the first.
The Plastic Surgery Group is a full service plastic surgery facility offering top board certified plastic surgeons. Using the newest medical techniques, our surgeons artfully reconstruct the breast after a mastectomy due to cancer or other disease, recreating all or part of the breast to achieve an outcome similar in form to that of the natural breast. A wide range of surgical and nonsurgical procedures are also available for facial rejuvenation, body contouring and skin care.
The North Fullerton Surgery Center is owned and operated by the founding physicians of Montclair Breast Center and The Plastic Surgery Group. It is accredited by The Joint Commission and The American Association for Accreditation of Ambulatory Surgery Facilities, Inc. and provides a patient experience that exceeds even the nation's most lauded ambulatory surgery facilities.

Between June 2011 and June 2014, 100% of Montclair Breast Center's established patients — those having consecutive annual screening mammograms performed at Montclair Breast Center – who were found to have breast cancer were diagnosed at the most treatable Stage 0, Stage 1 and very rarely Stage 2.