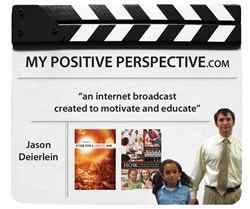 I made it a goal to look for good, positive things in life.
Charleston, SC (PRWEB) October 29, 2013
On October 28, 2013, My Positive Perspective aired an episode keeping in line with October being breast cancer awareness month. My Positive Perspective host Jason Deierlein was joined by Richard Valezquez, the founder of a movement called Pink Mohawk. Being a supporter of his own movement, Valezquez appeared on the episode with a pink Mohawk.
At the beginning of the episode, Deierlein asked Valezquez, "What gave you the idea to start this movement?" Valezuez then answers the question by saying, "I try to bring awareness and money for the Susan G Cohen foundation here in Charleston, SC. What motivated me towards doing this was that 75 percent of the money raised stays local in the foundation. Earlier this year, I cut off the television and said no more news. News is too negative and what you look for is what you get."
Valezquez then tells Deierlein, "I made it a goal to look for good, positive things going on in this world. Ever since toying around with that idea I have noticed people being helpful towards each other through random acts of kindness." Deierlein then says, "That is what the positive movement is all about, we do what we can to help and hopefully that comes back around to us."
My Positive Perspective is a media outlet believing that improvement in our community will be best achieved by focusing on the good things happening in our world today. Having survived a near fatal car accident as a youth, a shift of perception forced one to have a mentality of always concentrating on the brighter sides of things. This was true, and in my book, Return From a Comatose Mind, this belief was put to the test. Appreciation for life was the biggest thing one took away from my brush with death, and it is because of that gives me such a huge desire to be helpful to many. My Positive Perspective is a way of overcoming challenges through positive thinking.