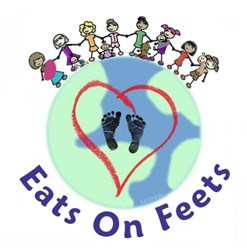 "Eats On Feets will continue to do its part in contributing to safety through reasoned and ethical research, distribution of educational materials, and advocacy."
Phoenix, AZ (PRWEB) October 22, 2013
Eats On Feets finds that the study "Microbial Contamination of Human Milk Purchased Via the Internet" supports community based milk sharing guidelines and is eager to respond.
Many families who need breast milk and who cannot afford or easily attain it from milk banks are turning to commerce-free milk sharing groups like Eats On Feets. This has captured the attention of the FDA and has many milk bank organizations wondering if these practices are to blame for their milk shortages.
Families, milk sharing groups and their supporters respond to this by saying that all babies, not just those lucky enough to have insurance coverage to purchase banked breast milk, deserve breast milk.
The researchers and backers of the AAP study seem to imply that sharing breast milk outside of milk banks is dangerous. In light of more serious research, is this a scare tactic or a real concern? Eats On Feets is excited to challenge this study and to reveal that it actually affirms what they have known all along, that their guideline, "The Four Pillars of Safe Breast Milk Sharing" is an important and useful document.
When asked "Are you concerned about this study and the safety of breast milk sharing?"
EOF responds: "Of course! We are concerned by the methods and intentions of this study and with the safety of all infant feeding methods. We urge everyone involved with the use donor milk to endorse our Four Pillars of Safe Breast Milk Sharing".
"The methodology, analysis, context, and ethics of this study are questionable. The study attempts to implicate all non ¬milk bank use of donor milk. In fact, it only addresses the use of donor milk obtained in a deceitful and unethical manner on behalf of the recipient (the researchers), and shoddy methods (the donors). Though these practices do not apply to the breast milk sharing community it clearly demonstrates that even without using a smidgen of common sense, the outcomes are not that sensational."
~ Shell Walker, Licensed and Certified Midwife
A detailed response is posted on their website and Their facebook page is open for comments on the subject and they inviting everyone to join in the discussion.
Attributions
Eats On Feets
"American Academy of Pediatrics Study Unwittingly Validates "Four Pillars of Safe Breastmilk Sharing" October 21, 2014
http://www.eatsonfeets.org/#blog
Facebook Discussion
"Our response to the American Academy of Pediatrics' report titled "Microbial Contamination of Human Milk Purchased Via the Internet"
October 21, 2014
facebook.com/EatsOnFeetsHome/posts/756966307663875
Midwifery Today
"The Four Pillars of Safe Breastmilk Sharing"
2012 Spring;(101):34-7.
Walker S, Armstrong M.
eatsonfeets.org/docs/TheFourPillars.pdf
American Academy of Pediatrics
"Microbial Contamination of Human Milk Purchased Via the Internet"
October 21, 2014
http://pediatrics.aappublications.org/content/early/2013/10/16/peds.2013-1687
International Breastfeeding Journal
"Milk Sharing: from private practice to public pursuit"
June 25, 2011
http://www.internationalbreastfeedingjournal.com/content/pdf/1746-4358-6-8.pdf
Science Daily
"Breast Milk Contains More Than 700 Species of Bacteria, Spanish Researchers Find"
January 4, 2014
sciencedaily.com/releases/2013/01/130104083103.htm
FDA
"Use of Donor Human Milk"
November 30th, 2010
fda.gov/ScienceResearch/SpecialTopics/PediatricTherapeuticsResearch/ucm235203.htm
TIME
"Milk Banks vs Milk Swaps: Breast Milk's Latest Controversy"
April 12, 2011
healthland.time.com/2011/04/12/milk-banks-or-milk-swaps-breast-milks-latest-controversy/