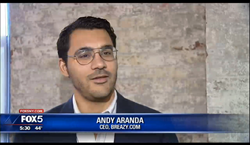 The Altria Juul deal is "a huge bet on a product category that for a long time has been overlooked by investors." Andy Aranda, CEO, Breazy.com
BROOKLYN, N.Y. (PRWEB) January 04, 2019
Andy Aranda, the Founder and CEO of Breazy.com, was featured as a vaping industry expert on Fox 5 News to weigh in on the biggest vape story of 2018: Big Tobacco giant Altria taking a large stake in e-cigarette giant Juul.
The e-cigarette industry was rocked by the announcement that the parent company of Marlboro-maker Phillip Morris was making a $12.8 billion investment in the cigalike startup.
Aranda said Altria taking a 35 percent stake in Juul signals that cigarette makers have finally caught on that the future is in vaping, not old-fashioned combustible cigarettes. "It's a huge bet on a product category that for a long time has been overlooked by investors," Aranda said at the headquarters of Breazy, which is based in Williamsburg, Brooklyn.
Aranda, a 35-year-old Wharton grad, founded Breazy.com in 2014 before most people knew what e-cigarettes were. Since then, the company has become the web's leading marketplace for vape hardware and e-liquids. Breazy.com has grown faster than the industry, doubling in size two years in a row to become the "Amazon of vaping," the story reports.
Aranda said e-cigarettes have become so popular because they offer an alternative to adult smokers. Aranda told Fox 5 reporter Mac King he wasn't surprised at the widespread popularity of e-cigarettes "because I'm a huge believer in the market."
In the news segment titled "Vaping has Become Big Business and Keeps Growing" Aranda recounts the first time he saw someone vaping at a pool party in 2014. After that, he quit his job at a hedge fund to invest his life savings in vape products he stored in his dad's garage. Since then Breazy has grown to 60 team members and recently tripled the size of its warehouse space.
Watch Aranda's appearance on Fox 5 new hour here.
[Aranda, a leading expert on the vaping industry, is available for interviews on all e-cigarette related topics. He is happy to provide insights and quotes for stories about market trends, forecasts, and breaking news.]
About Breazy.com
Breazy.com is an online marketplace for vaping hardware and e liquids. Started in 2014 in a garage, it has grown faster than the overall online vape market to become an industry leader, having surpassed the 100,000th order mark in mid 2017. Breazy's focus has remained on excellent service and innovative techniques to both assist and educate its consumers before and after purchase. In addition, Breazy supplies hundreds of brick-and-mortar retail outlets across the country through the wholesale distribution arm, Breazy Wholesale.