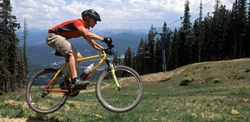 Our family has been integrated in the Breckenridge community since 1995.
Breckenridge, Colorado (PRWEB) April 24, 2015
The goal at Carvers is to help an individual or family have a successful experience in Breckenridge.
Conveniently located in the center of town, Carvers has been family-owned since 1995. Our friendly, approachable staff, can help with all of your mountain activities.
Carvers offers Breckenridge bike rentals (http://www.breckenridgeskishop.com/) for all ability levels. Carbon fiber road, mountina full-suspension, comfort, kids, they have your covered!
Their rental fleet: Trek Madone 4.7 carbon road bikes, Trek Superfly 8 29er, and Remedy 7 27.5/650b full suspension bikes, 21-speed tandem for paved path use, bike path cruiser, 21 speed comfort bike from Trek designed for paved path and light off-road use, Burley kid trailers, kids backpacks/strollers.
Springtime means different things to different people in Breckenridge, but for a good percentage of the population, it's finally time to pull the bike out of hibernation and contact Carvers to gear up. The snow is receding so take notes of what steps should be taken to make sure your bike is good to go. Contact Breckenridge Bike Rentals (http://www.breckenridgeskishop.com/).
Thad Eldredge and his staff know a thing or two about Breckenridge. Carvers has been serving our mountain community for 20 years. Be sure to catch up with them to get the rundown when visiting.
Carvers/ 203 N. Main Street/ Breckenridge, CO. Winter Hours: 8am-8pm daily. Summer Hours: 9am-6pm daily. if you have any questions please call (970)453-0132, 1-800-568-7010, or email carvers@colorado.net.
website: http://www.breckenridgeskishop.com/