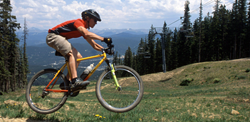 Our family has been integrated in the Breckenridge community since 1995.
Breckenridge, Colorado (PRWEB) May 13, 2015
As the leaders of bike rentals (http://www.breckenridgeskishop.com/) in Denver, Carvers beats out their competition through price, skill and quality.
Carvers is located on Main Street in Breckenridge Colorado, right in the center of town. Family friendly and family owned, Carvers is the only place to trust when it comes to bike rentals or repairs in Boulder. As an extra convenience, customers are just two minutes away from one of the best bike paths in town. Just hop on a bike you can trust, and go. Travelers and locals alike know exactly where to go when their bike needs a tune up, a cleaning or a rental.
Any sports enthusiast will agree that Carvers Breckenridge Ski Shop has the finest Breckenridge bike rentals (http://www.breckenridgeskishop.com/) with demo mountain or road bikes, tandem bikes, bike path cruisers, Jr bikes and baby joggers carriers. All prices are affordable for families, which is a tremendous perk when coming to this shop. Carvers takes special care and attention when it comes to family fun and enjoying the spectacular scenery on one of their bike rentals.
About Carvers
Thad Eldredge and his staff know a thing or two about Breckenridge. Carvers has been serving our mountain community for 20 years. Be sure to catch up with them to get the rundown when visiting.
Carvers/ 203 N. Main Street/ Breckenridge, CO. Winter Hours: 8am-8pm daily. Summer Hours: 9am-6pm daily. if you have any questions please call (970)453-0132, 1-800-568-7010, or email carvers(at)colorado(dot)net.
website: http://www.breckenridgeskishop.com/