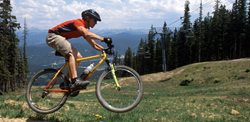 Our family has been integrated in the Breckenridge community since 1995.
Breckenridge, Colorado (PRWEB) July 07, 2015
Carver's Breckenridge Ski Shop offers a memorable experience for the whole family with their spectacular Breckenridge bike rentals (http://www.breckenridgeskishop.com/rentals/). Proud of being a staple in the center of town, in Breckenridge, and a gathering spot for all sports enthusiasts, this bike rentals Denver hotspot offers all biking services including:

Bike Rentals
Bike Repair
Ski packages
Snowboard Packages
Snowshoes & Clothing
As the leading bike rental shop in Colorado, Carver's offers bikes for the entire family from the professional rider to novice. Their stock includes demo mountain and road bikes like the Trek Madone 4.3 Carbon road bikes, bike path cruisers for the leisure riders, Jr. Bikes, trailers and baby joggers, as well as carriers for the newer families and tandem bikes for romantic rides.
Carver's also offers excellent bike repair services in case anything happens on the road with a client's current equipment. The staff is professional and best of all, they love what they do. Each member is passionate about their craft, making every experience at Carter's a great one.
Carver's staff is entirely dedicated to a great experience, taking care of all biking needs as well as being a leader in what's going on in Breckenridge. They know all of the best spots and recommend mountains and trails according to experience, and what the customer is looking for that particular day.
As the leaders of bike rentals (http://www.breckenridgeskishop.com/) in Denver, Carvers beats out their competition through price, skill and quality.
About Carvers
Thad Eldredge and his staff know a thing or two about Breckenridge. Carvers has been serving our mountain community for 20 years. Be sure to catch up with them to get the rundown when visiting.
Carvers/ 203 N. Main Street/ Breckenridge, CO. Winter Hours: 8am-8pm daily. Summer Hours: 9am-6pm daily. if you have any questions please call (970)453-0132, 1-800-568-7010, or email carvers@colorado.net.
website: http://www.breckenridgeskishop.com/