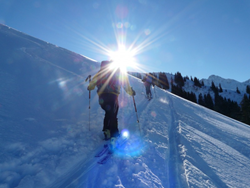 Our family has been integrated in the Breckenridge community since 1995.
Breckenridge, Colorado (PRWEB) October 15, 2015
Family owned and operated since 1995, Carver's is still going strong. This is due in part to Carver's immense dedication to satisfying their clients and offering them the most memorable experience while visitors are in town. With a huge resource of Breckenridge ski rentals (http://www.breckenridgeskishop.com/) & snowboard rentals, tens of thousands of tourists have visited this sweet spot over the last 20 years.
Renting equipment is made easy, especially Breckenridge ski & snowboard rentals. Carver's wants every visitor's experience to be unique. Carver's staff works hard to understand each visitor's specific needs and equips them with the best and safest equipment. Reservations for equipment can be made online or in person. For 20 years in service, Carver's is offering a 20% discount for online reservations. That's not all. Carver's is also offering the 5th day free when 5 days are booked.
Carver's is open 7 days a week and always offers the best Breckenridge ski rentals (http://www.breckenridgeskishop.com/rentals/) & snowboard rentals. These rentals have different packages: demo boards, sport boards and kids boards. What's included? Boots, board, bindings and client's choice of a one day package, 2-5 day package or 6 or more days package.
Learn More About Carver's Breckenridge Ski Shop
Carver's Breckenridge Ski Shop has the best gear that is well maintained and safe for the entire family. Not only do these winter time sports enthusiasts and professionals know everything there is to know about skiing and snowboarding, they also know the area very well. This provides customers with a fantastic experience whether they are looking for an easy, leisurely day out on the slopes or for an adventurous ride. Learn more about their rentals directly at http://www.breckenridgeskishop.com/en/breckenridge-ski-rentals-snowboard-rentals-more.
Thad Eldredge and his staff know a thing or two about Breckenridge. Carvers has been serving our mountain community for 20 years. Be sure to catch up with them to get the rundown when visiting.
Carvers/ 203 N. Main Street/ Breckenridge, CO. Winter Hours: 8am-8pm daily. Summer Hours: 9am-6pm daily. if you have any questions please call (970)453-0132, 1-800-568-7010, or email carvers(at)colorado(dot)net.
website: http://www.breckenridgeskishop.com/