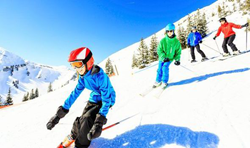 Our family has been integrated in the Breckenridge community since 1995.
Breckenridge, CO (PRWEB) November 23, 2015
Carver's Breckenridge Ski Shop and associates are excited to bring back their 20% savings program this holiday season. This winter is anticipated to be one of the best seasons with abundant snowfall and the best gear around. At Carver's, guests aren't treated like travelers because they know that you will return to them year after year. From expert guided experience to knowledgeable and quick service and renting, there isn't anywhere else traveling guests need to go when it comes to Breckenridge ski rentals (http://www.breckenridgeskishop.com/).
When renting ski gear, it is all about where one goes. Going to a place that doesn't live passionately about skiing and extreme sports isn't going to have the knowledge that the professionals at Carver's Breckenridge Ski Shop has. These pros know the slopes inside and out. They know where to go for beginners as well as for the Olympic hopefuls.
Carver's recommend reserving Breckenridge ski rentals in advance, especially for the winter season as these packages sell out quickly. For those who are new to the area or new to Carver's, give them a ring. They will find a customized and reasonably priced package for their traveling guests. No other ski rental shop is offering the same amazing discounts that Carver's offers including 20% off and even booking packages and receiving the 5th day for free. That's right, for free. The most common Breckenridge ski rentals http://www.breckenridgeskishop.com/rentals/ packages include the demo package, performance package, sport package and yes, even a kids package. Carver's is open and friendly for all kids and for all ages who love extreme sports.
Even if travelers decide to bring their own gear, there is always a chance that they will need supplies or need a tune up. All of the professionals at Carver's are up for the challenge. For more information regarding Breckenridge Snowboard rentals, check out Carver's Website http://www.breckenridgeskishop.com.
Learn More About Carver's Breckenridge Ski Shop
Carver's Breckenridge Ski Shop has the best gear that is well maintained and safe for the entire family. Not only do these winter time sports enthusiasts and professionals know everything there is to know about skiing and snowboarding, they also know the area very well. This provides customers with a fantastic experience whether they are looking for an easy, leisurely day out on the slopes or for an adventurous ride. Learn more about their rentals directly at http://www.breckenridgeskishop.com/en/breckenridge-ski-rentals-snowboard-rentals-more.
Thad Eldredge and his staff know a thing or two about Breckenridge. Carvers has been serving our mountain community for 20 years. Be sure to catch up with them to get the rundown when visiting.
Carvers/ 203 N. Main Street/ Breckenridge, CO. Winter Hours: 8am-8pm daily. Summer Hours: 9am-6pm daily. if you have any questions please call (970)453-0132, 1-800-568-7010, or email carvers(at)colorado(dot)net.
website: http://www.breckenridgeskishop.com/