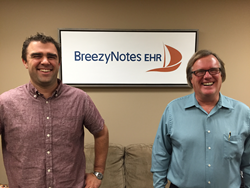 Eden Prairie, MN (PRWEB) November 05, 2015
BreezyNotes EHR launched its cloud-based mental health practice management software application today. The EHR software is the brainchild of therapist Jim Jonas, LICSW, LMFT, Clinical Supervisor and Director of The Jonas Center, and his son, Communications Professional Paul Jonas.
Initial work on BreezyNotes began in June of 2013 in response to a lack of available EHR software built specifically for solo and small-group mental health therapists and that kept clinical functionality, usability and simplicity as core tenets of its design.
"Every progress note I wrote involved extra steps," says Jim, BreezyNotes CEO, of his previous EHR system. "With paper it was three steps: See the client; take the note; and send the claim to insurance. It should be at least that simple electronically."
With that vision, Jim and Paul partnered with medical cloud services firm 7 Medical for hosting and Visible Technology Solutions for development.
Under Jim's guidance, the clinical interface and core clinical processes took shape resulting in BreezyNotes' core "Three Step Process," which allows a therapist to 1) schedule a client, 2) write a progress note, and 3) save, sign and submit a claim to insurance in three simple steps.
To address the complexities of mental health billing, BreezyNotes hired VIBE Behavioral Health Consultants to create a flexible billing system with processes that apply directly to the mental health setting.
BreezyNotes entered the beta testing phase in March of 2015. Lauren Robbins, MS, LPCC, LADC and owner of St. Paul-based Wild Tree Psychotherapy, was among the first to start testing the program.
"BreezyNotes is easy to use and saves me time," explains Robbins. "They've simplified the practice management piece so I can stay focused on our clients and growing my practice."
Currently BreezyNotes is actively promoting its software in the Midwest market with plans to expand nationally in 2016. The company is celebrating its launch by giving away a year's access to four winners in November in its Life's a Breeze Launch Sweepstakes and hosting a launch party. Additional details are available at breezynotes.com.