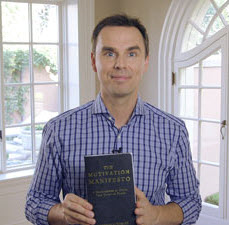 32,000 people preordered already on the first two days... and the book hasn't been even 'officially' released yet!
Portland, Oregon (PRWEB) October 15, 2014
For the cost of shipping (flat international fee of $7) interested people may get a prerelease copy of Brendon Burchard's new $19.95 hardcover book, The Motivation Manifesto - "9 Declarations to Claim Your Personal Power", and access to a $297 12-week online course for at no cost.
Brendon Burchard's new book a fiery call to arms to create the life we deserve. It's about overcoming self-limitations and social pressures in order to achieve what Brendon calls "Personal Freedom - the full expression of our true selves, the unabashed and courageous pursuit of our dreams."
To go a step further, Mr. Burchard is even going to give away a $297 12-Week Motivation Manifesto Online Course that goes deeper into - and beyond - the book.
The Motivation Manifesto doesn't actually come out until October 28th, but Mr. Burchard has preordered thousands of copies. 32,000 people preordered already on the first two days, and the book hasn't been even 'officially' released yet! Naturally the number of copies available is limited.
Interested readers may request the free The Motivation Manifesto and the complementary online training here:
https://www.kajabinext.com/a/De4uMkMy_4
Here is what Paulo Coelho, the most followed living writer and famed author of The Alchemist had to say:
"The Motivation Manifesto is a poetic and powerful call to reclaim our lives and find our own personal freedom. It's a triumphant work that transcends the title, lifting the reader from mere motivation into a soaringly purposeful and meaningful life. I love this book." - Paulo Coelho, author of THE ALCHEMIST
Mr. Burchard won't get the books until November 3rd so they won't ship until that week. As soon as he gets them Mr. Burchard will ship them, but for international shipments allow 1-4 weeks for delivery.
In the meantime, Mr. Burchard included downloads of the chapters as the participants go through the video course. The unfortunate reality of publishing these days is that the publishers still have ridiculous rules -- for example, retailers get the book even before authors! However, Mr. Burchard has bought a significant number of books. Interested readers may also read an excerpt published on this website:
http://internetbusiness-howto.com/?p=17968
Following the Table of Contents:

The Declaration of Personal Power
Section One: On Human Nature

On Freedom 3
On Fear 25
On Motivation 51
Section Two: The 9 Declarations

I. We Shall Meet Life with Full Presence and Power 73
II. We Shall Reclaim Our Agenda 97
III. We Shall Defeat Our Demons 119
IV. We Shall Advance with Abandon 135
V. We Shall Practice Joy and Gratitude 155
VI. We Shall Not Break Integrity 167
VII. We Shall Amplify Love 187
VIII. We Shall Inspire Greatness 201
IX. We Shall Slow Time 219
Following a few quotes from the introductory chapter "On Freedom":
"... Choosing our own aims and seeking to bring them to fruition creates a sense of vitality and motivation in life. The only things that derail our efforts are fear and oppression. That is ultimately what Personal Freedom is: liberty from the restrictions of social oppression and the tragic self-oppression that is fear. Freed from these things, we have the ability to express who we truly are and pursue what we deeply desire without restrictions set by others or ourselves..."
"... Our most difficult task is to defeat social oppression, the caging of our spirit and the stifling of our potential by others. We mean the moments when someone exercises judgment, authority, or power against us in a burdensome, cruel, manipulative, or unjust manner..."
"... Unfortunately, most oppression comes not from others but from a source we least suspect: ourselves. Self-oppression is the condition of letting our own negative thoughts and actions restrict us. It is an inside job, a burdening of our spirit by incessant doubt, worry, fear, and distraction.
None of us wants to be the cause of our own failure in life yet most often we are. It is our own inept thinking, our own bad habits that rip the vibrancy from life. We are the ultimate oppressors of our own happiness.
Self-oppression is evident whenever we limit ourselves. We stay home instead of going out because we are too anxious to explore. We procrastinate on an important assignment or exciting new venture because we cannot overcome our uncertainty. We fool ourselves into thinking that things must be perfect before we release our art into the world when the clear reality is we're just too undisciplined to get things done..."
And now another few quotes from the introductory chapter "On Fear":
"... Fear rips us from freedom. It is the destroyer of greatness. We know this and we know we should tame our mind in order to defeat fear. Yet look at all the adults who act like powerless children and avoid the life they want because of fear. The socially oppressed say, 'Well, you don't understand. People are always holding me back, and I am afraid to chase my dreams because others will judge and reject me.' And the self-oppressed say, 'You don't understand. I can't chase my dreams because I might fail I might not be good enough.'..."
"... To tame fear we must first recognize its horrid effects on our lives. What comes of us when we are motivated by fear? We lose our emotional center and mental character. Our thoughts become frazzled and riddled with anxiety. ..."
"... A great maturity opens in the human psyche when we accept that we can control our impulses by conditioning our thoughts, and that we alone are responsible for our emotions and reactions in life..."
"... Why are some people more driven by fear than freedom?
It can only be because in the past they were conditioned to be fearful, either by those around them or by their poor application of mental faculties. There is no genetic curse or personality trait that permanently condemns one person to fear more than another even a genetic predisposition for anxiety can ultimately be flipped on or off by mental conditioning. We are not slave to our history; we can be freed by our conscious thoughts and disciplined habits..."
Interested readers may request the The Motivation Manifesto book (for $7 shipping cost only) and online training here:
https://www.kajabinext.com/a/De4uMkMy_4
About Brendon Burchard:
Brendon Burchard is one of the most widely followed personal development trainers of our time. He is a #1 New York Times bestselling author whose books include Life's Golden Ticket, The Millionaire Messenger, and The Charge: "Activating the 10 Human Drives that Make You Feel Alive".
Brendon's efforts have inspired hundreds of millions of people around the globe. He is one of the Top 100 Most Followed Public Figures on Facebook (more than 1,900.000 fans); his weekly YouTube show is the most viewed direct-to-camera personal development series in the history of the site; his motivational podcast, The Charged Life, debuted at #1 on iTunes across all categories in the United States and multiple countries; and his blog posts rank as many of the most liked and shared in the modern history of the motivation.
Larry King calls him "one of the top motivation and marketing trainers in the world."
Interested readers may request the The Motivation Manifesto book (for $7 shipping cost only) and online training here:
https://www.kajabinext.com/a/De4uMkMy_4