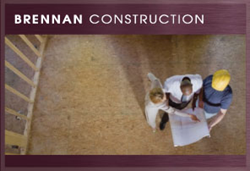 The building we are tackling is a 7-story mixed use development
Edina, MN (PRWEB) February 04, 2015
Brennan Companies has two primary divisions, Brennan Construction and Brennan Properties. Brennan Construction is a general contractor for commercial building projects ranging from roughly $50,000 to $10,000,000 in cost. Brennan announces they are beginning developments in the Twin Cites market.
Brennan Construction manages each trade involved in completing a project, including excavation, masonry, mechanical, electrical, interior finishes and more. They are ultimately responsible for schedule, cost, and workmanship. As a General Contractor, they provide project estimating, on-site carpentry with supervision, and office management. Brennan Construction is a member of the Women's Business Enterprise National Council (WBENC.)
"The building we are tackling is a 7-story mixed use development. The building will feature Class A office space, covered parking, 3 floors of luxury condominiums, and a roof-top terrace, which is the first in Mankato," says Project Manager Joe Brennan.
Brennan Construction is currently pursuing another women-owned designation with the Minnesota United Certification Program (MNUCP,) which will provide opportunities to work with the City of Minneapolis, Metropolitan Council, Metropolitan Airports Commission, and the Minnesota Department of Transportation.
Brennan Properties owns and maintains five commercial buildings in Mankato and North Mankato. They currently have 67,000 sf of leasable space divided amongst 30 tenants.
For more information:
Brennan Companies
5275 Edina Industrial Blvd
Suite 201
Edina, MN 55439
507-625-5417
JGM Properties owns and manages Pakwa Business Park, as well as 23 other suburban Minneapolis St Paul MN warehouse, and office space properties. Founded in 1980, JGM Properties works with over 200 tenants, including Brennan Companies to provide office, warehouse, and retail space for lease in Minnesota.
"Similar to Brennan Properties, JGM treats their tenants like family versus profit drivers," says Joe Brennan.