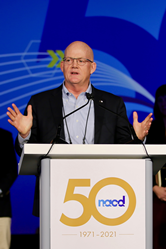 READING, Pa. (PRWEB) November 17, 2021
"We are so pleased to see Tom Corcoran honored with the 2021 Lifetime Achievement Award. He has been an ardent supporter of this association, dedicating enormous time, energy, and effort to lead the organization. During his decades of service, he believed in the value of collaboration, rigorous safety principals which are integral to NACD's Responsible Distribution program and creating a community that involved all parts of the distribution supply chain from distributors to producers, warehouse and trucking firms, as well as service providers. His contributions elevated NACD's programs and services to be a robust and resilient association," said Eric R. Byer, president and CEO, NACD.
The NACD Lifetime Achievement Award honors members who embody the spirit of NACD Responsible Distribution® and help move the chemical distribution industry forward by continuously advancing stewardship and creating connections. This year's honoree, Tom Corcoran, has been with Brenntag for over 20 years and has been an active member with the association for 25 years. In 2018, he was elected as Chairman of the Association and served a two-year term.
Christian Kohlpaintner, Chief Executive Officer Brenntag SE, comments: "This well-deserved award is a great honor for both Tom and Brenntag as a whole. With his tireless efforts, he contributes significantly to the development of the chemical distribution industry in North America, but also on a global level. He is an esteemed expert in our industry and a strong leader at Brenntag."
About Brenntag:
Brenntag is the global market leader in chemicals and ingredients distribution. The company holds a central role in connecting customers and suppliers of the chemical industry. Headquartered in Essen, Germany, Brenntag has more than 17,000 employees worldwide and operates a network of more than 670 sites in 77 countries. In 2020, Brenntag generated sales of around 11.8 billion EUR. The two global divisions, Brenntag Essentials and Brenntag Specialties, provide a full-line portfolio of industrial and specialty chemicals and ingredients as well as tailor-made application, marketing and supply chain solutions, technical and formulation support, comprehensive regulatory know-how, and digital solutions for a wide range of industries. In the field of sustainability, Brenntag pursues specific goals and is committed to sustainable solutions in its own sector and the industries served. Brenntag shares have been listed at the Frankfurt Stock Exchange since 2010, initially in the MDAX and since September 2021 in the DAX. In addition, the Brenntag SE shares are listed in the DAX 50 ESG and DAX ESG Target. For more information, visit http://www.brenntag.com.
About NACD:
NACD and its over 400 member and Affiliate companies are vital to the chemical supply chain providing products to over 750,000 end users. NACD members are leaders in health, safety, security, and environmental performance through implementation of Responsible Distribution, established in 1991 as a condition of membership and a third party-verified management practice. NACD was established in 1971 and is celebrating its 50th anniversary this year. For more information on NACD and how the association is Celebrating 50 Years, visit http://www.NACD.com.