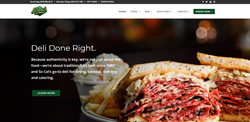 GoMarketing hired to Create a new website and online marketing for Brent's Deli in Northridge and Westlake Village California
WESTLAKE VILLAGE, Calif. (PRWEB) June 29, 2019
For over 50 years, Brent's Deli has offered quality ingredients and recipes to patrons in the Greater Los Angeles Area. Although much has changed in the business and restaurant industry since they've opened their doors, one thing remains true: Brent's Deli is family-owned and operated, and anyone who sits at their table is treated like family. That's why the Los Angeles delicatessen & restaurant is pleased to share a new, full-featured website to the benefit of their customers.
Not only does Brent's Deli new, streamlined website showcase their daily and weekly specials, it also offers a fully integrated online ordering platform for take-out and catering customers. With stunning imagery, the new site shows-off classic dishes and even gives users more information about Happy Hour and Boozy Brunch, which are available via Brent's Bar, exclusively served at the restaurant's Westlake Village location.
To bring their new website to completion, Brent's Deli partnered up with GoMarketing, a local digital marketing and advertising firm that specializes in web development, SEO, and content strategy. "We're proud to work with such a well-established business in the local area and help them stay at the forefront of digital marketability in this day and age," stated Richard Uzelac, CEO of GoMarketing.
About Brent's Deli
Since 1967, Brent's Deli has been known throughout Ventura and Los Angeles County as a premier delicatessen & restaurant that serves up traditional, authentic recipes for all to enjoy. From award-winning sandwiches to famous brunch specials, Brent's Deli does deli right with two bustling Southern California locations in Westlake Village and Northridge. For more information about dining in, take-out, or catering, visit their website here. Otherwise, call the deli directly at 805.557.1882 (Westlake) or 818.886.5679 (Northridge).
About GoMarketing
Based out of Thousand Oaks, California, GoMarketing uses the following mission statement to deliver digital marketing results to their clients: "Understand. Engage. Succeed. Grow." Acting as digital marketing professionals within a wide range of industry sectors, the GoMarketing team specializes in SEO, content strategy, website design and development, and more--providing a full suite of marketing solutions that generate online leads and sales for businesses throughout Southern California. For more information about their custom marketing plans, contact GoMarketing directly at 805.413.7893 or visit http://www.gomarketing.com.
About Richard Uzelac, CEO of GoMarketing
Founder of GoMarketing and RealtyTech Inc., Richard Uzelac is a former award-winning Realtor and a real estate company owner in both New Jersey and California. Besides helping local small businesses and real estate professionals increase their leads and sales via digital marketing these last 15 years, Mr. Richard Uzelac is also available as a paid Real Estate Technology Speaker, Seminar Provider and Consultant. For more information, contact Richard Uzelac at 805.413.7888.