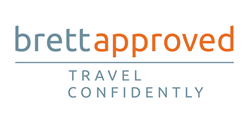 "A huge accessibility problem already exists in travel and hospitality, and it will rise exponentially in the coming years." - Brett Heising, CEO of brettapproved
Seattle, WA (PRWEB) August 04, 2015
brettapproved, a community-driven travel website that celebrates accessible restaurants, hotels, and entertainment venues, is launching a booking engine this fall designed specifically for travelers with disabilities or mobility challenges. The new booking engine will arm travelers with information and knowledge about what to expect when they are traveling and will provide booking assistance with partner hotels. The booking engine will provide unique rate codes and guaranteed pre-defined room types to users.
brettapproved will deliver incremental business to select partner hoteliers who understand and appreciate the plight of the disabled traveler. In recent market research conducted by brettapproved, more than 1,000 disabled travelers reported that 80 percent of the time, they don't receive the type of accommodation they reserved when they arrive at their hotel.
"There are 39 million Americans with a permanent physical disability that includes a mobility challenge in the U.S. today," said Brett Heising, CEO of brettapproved. "The baby-boom generation makes up a large segment of the financially qualified traveling population, and more than half of them have already experienced a significant mobility challenge; most are becoming less able-bodied over time. A huge accessibility problem already exists in travel and hospitality, and it will rise exponentially in the coming years."
Heising and his team have developed the unique booking engine specifically for this underserved market after extensive research into the hotel industry and the needs of the disabled consumer. After conducting interviews with more than 100 hotel owners and managers across the price spectrum, brettapproved found that not one hotel manager knew the number or type of accessible rooms they had on their property. Additionally, they were unfamiliar with other valuable data, such as how many guests annually requested or required accessible accommodations.
"Once we revealed the number and the market increase trends of travelers in this segment over the next five years, every manager was eager to learn more and pay attention to this hugely valuable travel market," said brettapproved COO Gillian Muessig.
brettapproved is currently working to partner with key hotels and chains around the country to provide this valuable accessibility information through its booking engine. Hotels interested in partnering are encouraged to contact Mike Putman, Travel Team Consulting, at (864) 325-2379. For more information, visit http://www.brettapproved.com.