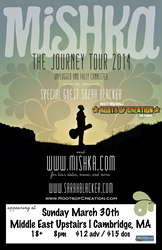 Brett Wilson performs at The Middle East Club with Mishka and Sarah BlackerSunday March 30th, 2014Brett Wilson performs at 8PM - arrive early!Ages: 18+ticket link: http://smarturl.it/3-30-14_mideast_tix
(PRWEB) March 26, 2014
Brett Wilson performs at The Middle East Club with Mishka and Sarah Blacker
Sunday March 30th, 2014
Brett Wilson performs at 8PM - arrive early!
Ages: 18+
ticket link: http://smarturl.it/3-30-14_mideast_tix
In addition to being the gravelly-voiced lead singer, righteous songwriter, and experimental guitarist for award-winning New Hampshire based Reggae/Rock/Dubtronica band, Roots of Creation, Brett Wilson is now establishing his solo career. Brett Wilson has lead Roots of Creation on 1,000+ international shows since 2004, including high-profile slots at Gathering of the Vibes and Wakarusa, sharing the stage with reggae legends The Wailers and pop star Collie Buddz, and touring with The Aggrolites, as well as releasing two studio and three live albums along the way. The musically devoted front man started his solo career in 2012 when he released his single and accompanying video, "Get Ready." Wilson now performs internationally, beginning 2014 at Jungle Jam in Costa Rica and then in Merida, Mexico. Currently touring in support of Mishka and Slightly Stoopid in the Northeast, the driven singer-songwriter is simultaneously working on a Brett Wilson EP and Roots of Creation full-length, both slated for 2014 release. This is Brett Wilson's debut solo performance in Boston after his band, Roots of Creation, sold out the House of Blues supporting Manu Chao, The Paradise, and Middle East 3 times. Advance ticket purchases are recommended.
Hawaiian based reggae pop star Mishka has released five full length albums and two EPs all of which have received critical acclaim around the world. Mishka, has performed with a wide cross-section of top acts including Anuhea, Dirty Heads, Michael Franti, Matisyahu, John Brown's Body, Burning Spear, Slightly Stoopid, Pepper, Luciano, Sly and Robbie, The Roots, The Cat Empire, Gregory Isaacs, Donovan Frankenreiter, Jimmy Buffet, Kenny Chesney, Zac Brown, and many more. Mishka's releases have charted around the globe including his last three releases reaching the #1 spot on Billboard Magazine's Reggae chart. Mishka continues to tour extensively both solo and with his band playing clubs, theaters, and festivals all over America, Canada, the Caribbean, Hawaii, and Japan. All along Mishka has been writing, performing, and rehearsing the songs that would become The Journey. Returning to his creative roots, fully independent and totally in control of his art and career, The Journey is a statement of where Mishka has been and also where he is going. The Journey was released on Jimmy Buffett's Mailboat Records, November 2013.
2013 'Female Performer of the Year' in the New England Music Awards, 2012 Boston Music Award nominee for Singer/Songwriter of the year, Sarah Blacker, was recently called "one of the brighter artists to grab our attention recently," by national Roots publication, No Depression. She is a full-time singer/songwriter currently touring in support of her 3rd album, which has already begun receiving airtime on local NPR station, WUMB. Blacker's music video for her single, 'Knocked the Winds' won runner up in the Limelight Magazine's Video of the Year, wherein she was nominated as Singer/Songwriter of the year. She was the winner of the Radio 92.9 / Boch Subaru contest and became the face and voice of their New England ad campaign for "ooh ooh it's love," NE Subaru, and was also named 'Artist of the Year' by My Rural Radio. In just under 3 years, she has performed at SXSW, CMJ, and a sold-out tour of Germany. Blacker has shared the stage with America, Rusted Root, Paula Cole, The Wood Brothers, Sara Bareilles, Jason Isbell, Carbon Leaf, and Lucy Kaplansky to name just a few. Her entrancing voice, poignant and emotionally charged lyrics, and mature songwriting has this artist on pace to go nowhere but up.