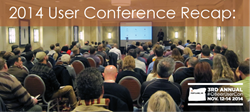 OrchestratedBEER was designed to create a simple yet powerful solution to help breweries run a better business. OBeerUserCon provides the unique user experience that transcends the software itself.
Portland, Ore. (PRWEB) December 04, 2014
Orchestra Software recently hosted its third annual OrchestratedBEER User Conference this past November in Portland, Oregon.The OrchestratedBEER User Conference is an annual event for OrchestratedBEER users to gather in one place to learn, collaborate and hear about the future of brewery-specific management software that was designed and developed based on user submitted feedback.
The users in attendance represented around 50 percent of the total OrchestratedBEER customer base and is the largest brewery management software conference in the world.
"OrchestratedBEER was designed to create a simple yet powerful solution to help breweries run a better business," said Orchestra Software President, Brad Windecker. "OBeerUserCon provides the unique user experience that transcends the software itself. OrchestratedBEER isn't just software; it's an adoption of best practices, interacting with other users and providing feedback. Our user community is literally building the future of brewery-specific software that ultimately sets the bar for all other software solutions."
Windecker also kicked off day one of the conference with an opening keynote entitled: "The State of OrchestratedBEER". The keynote outlined the current trends and progress within the OrchestratedBEER community and how user-submitted requests have been implemented since the previous conference.
Following each day's keynote session were 32 smaller breakout sessions separated into three tracks or categories covering topics related to technology, accounting and production. These sessions presented a mix of new and upcoming functionality with how to better utilize existing functionality to handle real-world brewing scenarios. Conference attendees could choose from the three simultaneous session tracks that catered to their job titles and interests.
Customer-led sessions were also introduced this year to provide OBeer users the opportunity to take the stage and share brewery business best practices with fellow users. Paul Burgis, COO/CFO of Golden Road Brewing in L.A. was happy to share his experiences and accounting best practices for using OrchestratedBEER:
"It's nice when everyone in the room is in the same situation as you and the interactions between the sessions are also very enjoyable. You can overhear people talking about some of the same mistakes that we've made, give them some feedback and hopefully get some feedback."
Sponsorship opportunities were also offered for the first time in the history of the conference. OrchestratedBEER partners and industry vendors sponsored sessions to discuss how current and future integrations with OrchestratedBEER will continue to improve the user experience. National accounting firm, and OrchestratedBEER partner, Baker Tilly introduced industry bench marking plans for breweries, while other sponsors like VIP, CitiXsys and ShipCompliant all shared how OBeer users utilize OrchestratedBEER integrations.
Windecker wrapped up the conference with a closing keynote addressing "The Future of OrchestratedBEER", which centered on providing "simple solutions to complex problems."
Windecker introduction a new line of mobile applications that will allow users to take what was formerly limited to a desktop application and mobilize it using a simple iPad user interface. OrchestratedBEER's continued focus on a mobile development strategy will provide users with the robust capabilities of the desktop application in the palm of their hands.
As outlined in the closing keynote, the concepts of blending flexibility and simplicity through mobile applications provided the perfect crescendo to a wildly successful conference that left everyone excited about the future of OBeer brewery software.
"Complexity is a barrier to growth," added Windecker. "What we are trying to do is not just provide complex solutions to complex problems. On the iPad, we got it down to 'tap, tap, done.', and it processes the entire production order. The iPad production app and the way we handle a production run is a great example of building in enough flexibility for our largest customers but the smallest brewery can start using it from day one. We're now rolling out that same functionality to other aspects of the brewery as well."
Attendance numbers for the 2014 conference easily eclipsed those of last year as an increasing amount of new and existing users continue to find value in attending the conference year after year.
"Attendance for this year's conference completely exceeded our expectations," said Orchestra Software Vice President, Reshad Kazimee. "It's not often you'll find software conferences with attendance rates around 50 percent of its customer base. It further proves that the OrchestratedBEER user conference is truly a unique experience that very few can emulate."
The User conference will continue to be centered on feedback, learning and improving the overall OBeer user experience. That trend will continue into 2015 with innovation, more sessions, bigger venues and more attendees as OrchestratedBEER continues to set the standard for brewery management software.
About OrchestratedBEER:
OrchestratedBEER is an "all-in-one" business management software solution that helps you manage every aspect of your brewery from accounting in the back office, to iPads on the brewery floor. OrchestratedBEER solves the common problems that breweries of all different sizes encounter as a result of using convoluted spreadsheets, limited bookkeeping software, white boards, pen & paper, and other makeshift tools. OrchestratedBEER consolidates information in one centralized location to reduce unnecessary work, eliminate dual-entry, increase transparency, and streamline processes. OrchestratedBEER provides real-time Key Performance Indicators (KPIs), accurate future inventory projections, flexible production planning and insightful business reporting.
OrchestratedBEER is developed, supported and maintained by Orchestra Software under one roof in Beaverton, Oregon. Our team is passionate about craft beer and committed to solving the complicated dynamics of the craft brewery business by utilizing proven best practices.
About Orchestra Software:
Orchestra Software is an enterprise software company located in Beaverton, Oregon that creates industry vertical solutions that are scalable enough for large companies, but affordable enough for small growing companies. Our industry specific software consolidates all company operations into one single application, providing an unparalleled insight into the business, and creating opportunity for cost savings and increased profitability.