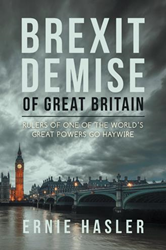 OLD KILPATRICK, Scotland (PRWEB) August 27, 2019
Spurred by concern for the future of Britain, author Ernie Hasler's newest book and political thriller, "Brexit Demise of Great Britain: Rulers of One of the World's Great Powers Go Haywire" (published by AuthorHouse UK), shares his vision for the future of a Britain isolated from major world markets. The book is available for purchase at: https://www.amazon.com/Brexit-Demise-Great-Britain-Haywire-ebook/dp/B07KMXK92T.
Following main characters Kizzy and Desperate Dan, the book explores suppressed and falsified information by church and state and how a small number of rich people rule the world. "Brexit Demise of Great Britain" describes what is going to happen in the months ahead, prophesying the crises that will happen after Brexit — the United Kingdom's referendum to leave the European Union. Foreseeing a terrible future, the book shows the beginning of World War III, the rise of German-led superpower and the World Church.
Hasler says his book offers readers warning "Return to Yahweh and His commandments as instructed by Messiah Yeshua and suffer hardship and persecution – or Join the soon coming Word Church and be able to buy and sell by taking the digital identity mark."
"Brexit Demise of Great Britain"
By Ernie Hasler
Softcover | 6 x 9 in | 410 pages | ISBN 9781728380551
E-Book | 410 pages | ISBN 9781728380544
Available at Amazon and Barnes & Noble
About the Author
Ernie Hasler began working for the Ministry of Defense at Royal Ordnance in Bishopton, Scotland, when he was 16. He retired as a health and safety advisor after more than a half century of work. Hasler became active in the trade union early in his career and was the first advisor in Scotland to gain the specialist National Examination Board in Occupational Safety and Health or NEBOSH diploma in environmental management. In his spare time, he ran a small charity Plant Tree Save Planet starting women's tree nurseries in poor countries, but closed it due to poor health. He continues to fund tree planting through Trees for the Future, at a rate of 20,000 seedlings per year. As a voluntary trustee with Emmaus Glasgow for 21 years, he helped take it from an aspirational concept to a functioning community of up to 27 previously homeless people; Emmaus Glasgow now also match his tree planting funding. He has also written "What's Happening to Our World?," "Poems: Reflecting The Truth - Volume One," "Original Bible Truth" and "Twenty First Century Slaves."