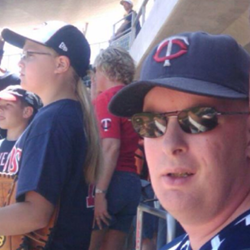 All of us will miss him more than words can say.
(PRWEB) August 04, 2014
On the afternoon of July 30th, 2014, Brian Malmgren passed away due to complications associated with Myotonic Dystrophy. At age 43, Brian had lived a full, and at times, very challenging life.
Myotonic dystrophy is part of a group of inherited disorders called muscular dystrophies. It is the most common form of muscular dystrophy that begins in adulthood.
Myotonic dystrophy is characterized by progressive muscle wasting and weakness. People with this disorder often have prolonged muscle contractions (myotonia) and are not able to relax certain muscles after use. For example, a person may have difficulty releasing their grip on a doorknob or handle. Also, affected people may have slurred speech or temporary locking of their jaw.
Other signs and symptoms of myotonic dystrophy include clouding of the lens of the eye (cataracts) and abnormalities of the electrical signals that control the heartbeat (cardiac conduction defects). In affected men, hormonal changes may lead to early balding and an inability to father a child (infertility). The features of this disorder often develop during a person's twenties or thirties, although they can occur at any age. The severity of the condition varies widely among affected people, even among members of the same family.
There are two major types of myotonic dystrophy: type 1 and type 2. Their signs and symptoms overlap, although type 2 tends to be milder than type 1. The muscle weakness associated with type 1 particularly affects the lower legs, hands, neck, and face. Muscle weakness in type 2 primarily involves the muscles of the neck, shoulders, elbows, and hips. The two types of myotonic dystrophy are caused by mutations in different genes.
A variation of type 1 myotonic dystrophy, called congenital myotonic dystrophy, is apparent at birth. Characteristic features include weak muscle tone (hypotonia), an inward- and upward-turning foot (clubfoot), breathing problems, delayed development, and intellectual disability. Some of these health problems can be life-threatening.
Brian was a strong and brave man determined to do what he wanted to do despite the challenges of dealing with Myotonic Dystrophy for 21 years. His spunk and feistiness served him well as his condition changed. He was kind and empathetic with a dry sense of humor.
He loved his large family more than anything else. Brian was preceded in death by grandparents, Dale & Pauline Halloway, Stan & Ruth Malmgren; 3 uncles, and 2 aunts. Survived by parents, Eric and Julia Malmgren; sister, Lisa Malmgren (Elias Russell); many aunts, uncles, cousins, and friends. Brian loved his family above all, along with a deep passion for the Minnesota Twins. Brian was also a cat lover.
"All of us will miss him more than words can say," says Brian's mother, Julia Malmgren. She goes on to say, "we are also joyful that he is now well for eternity."
In response to this life changing event, the Malmgren Family, with help from other close friends, established the "Brian Malmgren Memorial Fund." The fund is setup to assist the family with funeral costs, as well as a donation to the Muscular Dystrophy Association to help fund Myotonic Dystrophy research, and improve the lives of those living with Myotonic Dystrophy.
The goal is to raise $10,000, to be donated by October 1st, 2014. All donations made in the last 7 days of the fundraiser will be matched by Elias Russell (fundraiser coordinator).
Below is a link to the obituary in the Star Tribune:
http://www.startribune.com/obituaries/detail/29270/?fullname=brian-j-malmgren
Please visit the fundraiser donation page for Brian, and make a contribution if you're able.
http://www.youcaring.com/memorial-fundraiser/brian-malmgren-memorial-fund/212504
Funeral Service is set for 11 a.m., Wednesday, August 6th at:
Hennepin Ave United Methodist Church
511 Groveland Ave
Minneapolis
Visitation, 5-7 p.m., Tuesday at:
Gill Brothers Funeral Home
5801 Lyndale Ave S
Minneapolis
Interment:
Grandview Park Cemetery, Hopkins
Cited Source:
http://ghr.nlm.nih.gov/condition/myotonic-dystrophy