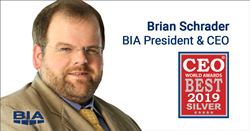 "It's an honor to receive this recognition from the CEO World Awards," said Schrader. "Business Services is a broad category with many outstanding leaders, and it's a privilege to be considered one of them."
NEW YORK (PRWEB) August 07, 2019
BIA, a leading national eDiscovery and digital forensics company, announced today that Brian Schrader has been named a winner of the prestigious CEO World Awards® in the CEO of the Year, Business Services category. Schrader's recognition was largely achieved because of his efforts to create a strong company culture that rewards proactivity and dedication, which led to BIA being named one of the 2018 Best Places to Work in New York City by Crain's New York Business.
"It's an honor to receive this recognition from the CEO World Awards," said Schrader. "Business Services is a broad category with many outstanding leaders, and it's a privilege to be considered one of them. This award is a testament to BIA's commitment to innovation, and I am extremely proud to be a part of such an amazing team of talented professionals."
In addition to his own innovations, such as creating technology that's now widely used in the eDiscovery industry, Schrader inspires innovation among his team. Employees are encouraged to obtain Certified eDiscovery Specialist (CEDS) certification, on BIA's dime. The company also provides regular internal training on industry practices and company values. BIA's culture is further defined by personalized attention from executives and the rewarding of hard work – made evident by the company's monthly award program that recognizes and rewards employees for demonstrating the company's guiding principles. Employees can nominate each other for a chance to win $1,000 and two additional days of paid time off.
Having happy, engaged employees benefits BIA's clients, too, as they reap the reward of an in-sync team that's devoted to providing a superior product and exceptional customer service. Schrader realizes it's the people behind the technology that make the business work, and because he invests in them, they are motivated to do whatever is necessary to meet the needs of BIA's clients.
"Brian is an outstanding individual, and it's an honor to work under his leadership. He's created a family environment here, and because he values innovative thinking and professional development, employees are encouraged to continually create, adopt and modify technologies to meet new needs," said Mark MacDonald, BIA's senior vice president of business development. "That's why BIA led the charge on remote data collection and the use of advanced analytics, and it's why we remain on the cutting edge of our industry with new services like Social Media Discovery™ and Data Breach Discovery™. Brian's leadership is the reason BIA is one of the best places to work in New York City and has a turnover rate of less than five percent."
The coveted annual CEO World Awards program encompasses the world's best in leadership, innovation, organizational performance, new products and services, CEO excellence studies, corporate social responsibility and milestones from every major industry in the world. Nominations are submitted from organizations from all over the world, including public and private, for-profit and nonprofit, largest to smallest and new start-ups.
Judges were drawn from a broad, global spectrum of industry voices, and their average scores determined the 2019 award winners. Winners will be honored in San Francisco on Monday, October 28, 2019 during the annual SVUS Red Carpet Awards Ceremony Dinner, attended by the finalists, winners, judges and industry peers.
About BIA
As an industry pioneer, BIA continues to set the standard for reliable, innovative and cost-effective eDiscovery services. Its customer-first focus has resulted in countless innovations copied widely across the industry today. From technical innovations like truly remote data collections and the first cloud-based, end-to-end eDiscovery platform to service revolutions like reusing data and coding across matters and hiring dedicated, full-time employees for document review, BIA consistently stands at the leading edge of the industry. Founded by legal and technology professionals, BIA provides the entire spectrum of eDiscovery services – including attorney document review – with minimal disruption to its clients' daily business operations. To learn more, visit BIA at http://www.biaprotect.com or on Twitter at @biaprotect.
About the CEO World Awards
CEO World Awards are an annual industry and peers recognition program honoring CEOs and organizations of all types and sizes in North America, Europe, Middle-East, Africa, Asia-Pacific, and Latin-America. The Annual CEO World Awards is part of the SVUS Awards® recognition program from Silicon Valley in the United States of America, which also includes other programs such as Consumer World Awards, Customer Sales and Service World Awards, Golden Bridge Awards, Globee Awards, Info Security PG's Global Excellence Awards, Network Products Guide's IT World Awards, Pillar World Awards, PR World Awards, and Women World Awards. Learn more about the CEO World Awards and see the complete list of winners here: https://ceoworldawards.com/winners/2019-winners/