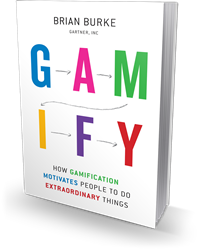 GAMIFY goes beyond the hype and focuses on the 20% that are getting it right.
Boston, MA (PRWEB) April 08, 2014
Bibliomotion, books + media is pleased to announce the release of GAMIFY: How Gamification Motivates People to Do Extraordinary Things by Brian Burke (Bibliomotion, April 8, 2014). In the book, Gartner, Inc. analyst and research VP Brian Burke focuses on the 20% of companies that are getting gamification right. He shows that gamification can be used to motivate people to change behaviors, develop skills, and drive innovation. Brian was recently featured in an article on Investor's Business Daily, which discusses how gamification can be used to increase employee engagement.
Below, Brian explains his research and his reasons for writing the book.
What inspired you to write GAMIFY?
BB: I believe gamification can have a huge impact on business and society, but what I was hearing and reading on the topic was often misguided. There's a lot of confusion out there! The reason I wrote GAMIFY was to help people to focus on the opportunities for gamification, to understand its limitations, and hopefully to shift the conversation to within the realm of the possible.
BB: What was your favorite part of the writing and publishing process?
My favorite part was getting insights from lots of people with different perspectives, and piecing them together to get to the essence of what's really going on. As a researcher, my job is to understand technologies and trends and make them simpler, not more complex. My goal with GAMIFY was to demystify gamification, and to help organizations use it successfully.
Who do hope reads your book? What do you want them to get from it?
BB: The exciting part is that the opportunity space is wide open. It could be a teacher in Hyderabad figuring out a way to teach kids more effectively, or an entrepreneur in Silicon Valley looking for a new way to add value to the product offer, or an unemployed youth in Barcelona trying to find a way forward through Spain's chronic employment problem. What I hope they get from GAMIFY is a roadmap for engaging and motivating a crowd to make things better - to make a difference.
BB: Who was your #1 influencer for your work?
It I had to pick one person it would be Craig Kielburger, co-founder of Free the Children. He really understands the power of gamification to engage and motivate people using a digital model rather than a face-to-face model. His app, We 365, does just that. It is a gamified solution designed to digitally engage youth and motivate them to take action for social change. It extends the energy of We Day and packages it into a gamified solution to inspire youth every day. That is really the essence of what gamification is about.
What are you reading right now?
BB: Right now I'm reading, "The Second Machine Age: Work, Progress, and Prosperity in a Time of Brilliant Technologies" by Erik Brynjolfsson and Andrew McAfee. This book has great insights into the impacts of what the authors call the "second machine age", or as Gartner calls it, the "Digital Industrial Economy". Going beyond understanding the technology advances, the authors examine the social and economic impacts of the coming technological revolution, and they make recommendations about how government and society must respond to these disruptions.
About GAMIFY:
Organizations are facing an engagement crisis. Organizations struggle to meaningfully engage their key constituent groups, which might be customers, employees, patients, students, citizens, or stakeholders. All such constituent groups share a precious and limited resource: their time. Not surprisingly, these constituents have developed deflector shields to protect themselves. Only a privileged few organizations are allowed to penetrate the shield, and even fewer will meaningfully engage. To penetrate the shield, and engage the audience, organizations need an edge.
Gamification has emerged as a way to gain that edge and organizations are beginning to see it as a key tool in their digital engagement strategy. While gamification has tremendous potential to break through, most companies will get it wrong. Gartner predicts that by 2014, 80% of current gamified applications will fail to meet business objectives primarily due to poor design. As a trend, gamification is at the peak of the hype cycle; it has been oversold and it is broadly misunderstood. We are heading for the inevitable fall. Too many organizations have been led to believe that gamification is a magic elixir for indoctrinating the masses and manipulating them to do their bidding. These organizations are mistaking people for puppets, and these transparently cynical efforts are doomed to fail.
This book goes beyond the hype and focuses on the 20% that are getting it right. We have spoken to hundreds of leaders in organizations around the world about their gamification strategies and we have seen some spectacular successes. The book examines some of these successes and identifies the common characteristics of these initiatives to define the solution space for success. It is a guide written for leaders of gamification initiatives to help them avoid the pitfalls and employ the best practices, to ensure they join the 20% that gets it right.
Gamify shows gamification in action: as a powerful approach to engaging and motivating people to achieving their goals, while at the same time achieving organizational objectives. It can be used to motivate people to change behaviors, develop skills, and drive innovation. The sweet spot for gamification objectives is the space where the business objectives and player objectives are aligned. Like two sides of the same coin, player and business goals may outwardly appear different, but they are often the same thing, expressed different ways. The key to gamification success is to engage people on an emotional level and motivating them to achieve their goals.
About the author:
Brian Burke is a Research Vice President at Gartner, covering enterprise architecture for the past 15 years. He has also been leading research on the emerging gamification trend since 2010. As an expert in enterprise architecture, he has worked for decades on understanding disruptive technology trends and their implications for business. He currently leads research in business outcome-driven enterprise architecture and his groundbreaking work in the development of federated architectures has been implemented in hundreds of organizations in both the public and private sectors. He is also a prominent researcher and speaker in the areas of gamification, IT strategy, IT organizational structures and business/IT alignment.
Mr. Burke has a broad and diverse background in technology and strategy, having more than 25 years of experience in the industry. He joined Gartner in April 2005 with the acquisition of Meta Group, where he worked for the previous seven years. Prior to that, he held senior management positions with responsibility for the development of IT strategy and architecture and the implementation of emerging technologies, including Internet, knowledge management, data warehouse, groupware, client/server and LAN/desktop technology.
About Bibliomotion, books + media:
Bibliomotion is a book publishing house designed for the new publishing landscape. While many publishers work to retrofit old processes for new realities, Bibliomotion was founded by book-industry veterans who believe the best approach is a fresh one – one that focuses on empowering authors and serving readers above all else. Moving away from the top-down model that has dominated the publishing process for years, we give each member of the team – including the author – a seat at the table from the very beginning and in doing so, work side-by-side to launch and sell the best content possible, making it available in a variety of forms.