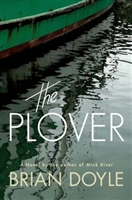 A rare and unusual book and a brilliant, mystical exploration of the human spirit.
Portland, OR (PRWEB) April 24, 2014
Author Brian Doyle one of the keynote speakers, along with Jeffery Deaver at the most recent Pacific Northwest Booksellers Association meeting, dazzled the crowd with his dynamic, energetic, humorous and often heartwarming story telling. This chance meeting prompted online bookseller, VJ Books, to name Doyle in its weekly Author Spotlight for this week.
Brian Doyle edits Portland Magazine at the University of Portland, in Oregon. He is the author of 13 books: six collections of essays, two nonfiction books, two collections of "proems," the short story collection BIN LADEN'S BALD SPOT, the novella CAT'S FOOT, and the novel MINK RIVER. Doyle's books have seven times been finalists for the Oregon Book Award, and his essays have appeared in The Atlantic Monthly, Harper's, Orion, The American Scholar, The Sun, The Georgia Review, and in newspapers and magazines around the world, including The New York Times, The Times of London, and The Age (in Australia).
His essays have also been reprinted in the annual Best American Essays, Best American Science & Nature Writing, and Best American Spiritual Writing anthologies. Among various honors for his work is a Catholic Book Award, three Pushcart Prizes, the John Burroughs Award for Nature Essays, Foreword Reviews' Novel of the Year award in 2011, and the Award in Literature from the American Academy of Arts and Letters in 2008 (previous recipients include Saul Bellow, Kurt Vonnegut, Flannery O'Connor, and Mary Oliver).
"VJ Books is pleased to select Brian Doyle's new novel, THE PLOVER, as our first "NEW TO US" featured book" reports John Hutchinson, bookstore co-owner. "Each month VJ Books will select an author who is new to our book signing schedule, whose book we find worthy of this focus. These titles are offered to our book club members at special introductory pricing." Book Club details and sign-up are found on the VJ Books website.
Brian Doyle's THE PLOVER is a sea novel, a maritime adventure, the story of a cold man melting, a compendium of small miracles, an elegy to Edmund Burke, a watery quest, a battle at sea---and a rapturous, heartfelt celebration of life's surprising paths, planned and unplanned.
Declan O Donnell has sailed out of Oregon and deep into the vast, wild ocean, having had just finally enough of other people and their problems. He will go it alone, he will be his own country, he will be beholden to and beloved of no one. No man is an island, my butt, he thinks. I am that very man...
But the galaxy soon presents him with a string of odd, entertaining, and dangerous passengers, who become companions of every sort and stripe. THE PLOVER is the story of their adventures and misadventures in the immense blue country one of their company calls Pacifica. Hounded by a mysterious enemy, reluctantly acquiring one new resident after another, Declan O Donnell's lonely boat is eventually crammed with humor, argument, tension, and a resident herring gull.
Praise for Brian Doyle and THE PLOVER:
"A rare and unusual book and a brilliant, mystical exploration of the human spirit." - Kirkus Review
About VJ Books:
VJ Books has specialized in signed and collectible modern fiction for nearly 20 years, are pleased to be able to offer signed copies of THE PLOVER. Each month, VJ Books' customers are able to choose from dozens of autographed books from some of the most exciting, highly acclaimed authors in the areas of mystery, suspense, science fiction and modern literature. Additionally, they continue to offer an impressive selection of back list, rare, out-of-print, and special edition titles.
Contact:
Virginia Lenneville
marketing(at)vjbooks(dot)com
Facebook: vjbooks
Twitter: vjbooks