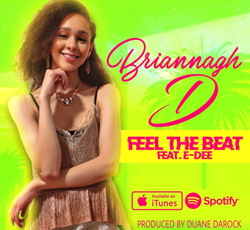 MANHATTAN, N.Y. (PRWEB) April 26, 2019
Briannagh D's song "Feel the Beat," has hit the Caribbean like a storm. Not only has the song been playing on several radio stations across four continents, her music video has over one million hits on Facebook and have charted number one in twenty-four Islands for five consecutive weeks on "Cross Caribbean Countdown" on Tempo, the number one television network in the Caribbean.
Briannagh D's song "Feel the Beat," and features E-Dee, the Dance Hall Celebrity, from the movie, "Out the Gate." The song was produced by the legendary producer Duane DaRock, who has produced for the likes of Nicki Minaj, Jim Jones, and Pit Bull, The video for "Feel The Beat" has been making waves playing on several television networks as far away as Germany on OK-TV and on several venues here in the USA, including World Star Hip Hop.
Concerning acting, Briannagh D has appeared on several television show. She made an appearance on the Disney Channel television series "Bizaardvark," playing one of Amelia's fans in season one's episode "Frankie's Got a Hater." She has also made appearances on several Nickelodeon shows.
Briannagh D has performed at many different venues, such as the St. Kitts Music Festival in June of 2017, in which afterwards she received her "Time to Shine" with an article from the Hype Magazine. She shared the stage with musical legends like Shabba Ranks,The Goo Goo Dolls, Mavado, and Creedence Clearwater Revisited, as well as many others, representing a range of primarily Afro-Caribbean musical styles.
Briannagh D set to release her new single "That Feeling" featuring rapper Cassidy who is known as The Battle Rapper King. Cassidy has work with artist such as Alicia Keys, Swizz Beatz's, The Game just to name a few. Briannagh D is looking forward to starting her upcoming tour on May 26, 2019 in New York and releasing her upcoming EP this Summer.
Social Media:
website:http://www.BriannaghDennehy.com
Instagram: @ Briannagh D
Twitter: @ Briannagh D
Facebook: @ BriannaghD