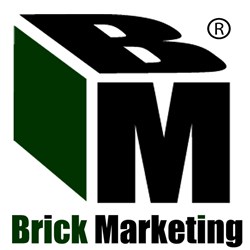 Our partnership with Brick Marketing gives organizations an end-to-end solution for increasing website traffic and converting that traffic into new revenue. - Nick Stamoulis, Brick Marketing President and Founder
Boston, MA (PRWEB) November 21, 2013
Brick Marketing (https://twitter.com/brickmarketing), Boston-based SEO firm announces a new partnership with internet conversion experts, SiteTuners. SiteTuners (http://sitetuners.com/) helps businesses to improve their website conversion rates with a suite of services that optimize the site's ability to influence visitors to take desired actions. As a full service search engine optimization firm, Brick Marketing's focus is on increasing traffic to websites and garnering new visitors. These two services complement each other perfectly giving clients a two pronged approach to internet marketing success.
The two companies have joined forces in an effort to add an additional layer beyond the SEO process. Nick Stamoulis, Founder and President of Brick Marketing says "A lot of our clients experience a significant increase in website traffic after implementing their customized SEO strategies. However, many clients still become frustrated when the new traffic fails to convert into new leads and customers. Brick Marketing's new partnership with SiteTuners gives our clients an opportunity to expand on their success with our services to get more business out of the increases in organic traffic that are a result of our SEO strategies." Brick Marketing's clients will now have the option to add conversion consulting services via SiteTuners to their customized full service SEO strategies.
Brick Marketing is excited to work with SiteTuners as both companies are growing leaders in the internet marketing industry. "Generating targeted traffic to their website is a primary marketing goal for most businesses today. Surprisingly, few companies invest the same effort into converting that new traffic into customers," said SiteTuners CEO Tim Ash. "Our partnership with Brick Marketing gives organizations an end-to-end solution for increasing website traffic and converting that traffic into new revenue."
"Since I started Brick Marketing back in 2007, the SEO industry has experienced multiple changes over the year, many that have happened within the past few months. Our partnership with SiteTuners helps us to help our clients better navigate the ever-changing SEO landscape by giving them an extra step towards getting new customers from their online marketing efforts," says Stamoulis.
About SiteTuners
SiteTuners is a conversion rate optimization firm that works with companies to improve online conversion rates. Established in 2002, SiteTuners was one of the first companies to focus exclusively on landing page testing and tuning services, and is still considered a pioneer in the field. SiteTuners' CEO and co-founder Tim Ash is frequently invited to share his expertise and knowledge at industry conferences and in trade publications. Since its founding, more than 1,250 companies have turned to SiteTuners to improve the performance of their online marketing programs. For more information, please visit http://www.sitetuners.com.
About Brick Marketing
Brick Marketing is a full service SEO solutions firm specializing in B2B search engine optimization and social media marketing management. Brick Marketing's B2B SEO services are designed to increase visitors, build link portfolios, create thought leading content, and improve brand authority. Each client receives a customized SEO plan specific to their needs and internet marketing goals. Brick Marketing also hosts SEO workshops that are designed to instruct business owners and marketing professionals in the best practices of white hat Search Engine Optimization. The company also offers custom SEO training for both individuals and businesses. To learn more about Brick Marketing, visit our profile page on LinkedIn at http://www.linkedin.com/company/brick-marketing---boston-seo-firm.