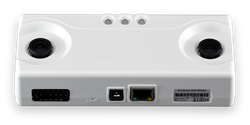 Atlanta, GA (PRWEB) October 02, 2013
Brickstream, a leader in behavior intelligence solutions for environments where people shop, gather, work and play, today announced new software releases for its industry-leading Brickstream Smart Device and Brickstream Device Manager products. The enhanced Smart Device software supports Brickstream's complete line of 2D and 3D Smart Devices, which are designed to capture highly accurate data about customer behavior in brick and mortar locations. Brickstream Device Manager is a companion product that enables users to easily configure, manage and troubleshoot Smart Devices wherever they are installed.
The new Brickstream Smart Device software supports:

Path Linking: Already available in Brickstream application software, Path Linking gives users the ability to seamlessly link data from up to three individual devices. Path Linking is useful for measuring traffic across wide doorways, long queues or large aisles and departments.
Store-in-Store coverage: Up to 32 "zones" can now be configured across the field of view of a single Brickstream Smart Device or a group of Path-Linked Smart Devices. This expanded coverage is especially useful for collecting data in "store-in-store" locations that are not bordered by traditional entrances and exits.
Increased data storage: Up to 80 days of data can now be stored on each Brickstream Smart Device, depending on the number of configured zones. (Previous versions stored up to 10 days of data.)
Path Linking Enables More Accurate Counting in Wide Doorways
When it comes to people counting, accuracy matters, and Brickstream Smart Devices are distinguished by their ability to capture highly precise metrics. Bricktream's new Path Linking technology ensures that people are not over- or under-counted in physical locations due to gaps or overlapping coverage between data capture "zones." Path Linking allows traffic data collected by up to three Brickstream smart devices to be linked seamlessly, giving users a single, uninterrupted view of entrances, exits and movement. This is particularly useful for analyzing store-in-store activity, long queues, or traffic moving through wide doorways, in aisles and in departments where multiple devices need to be deployed to cover a large area.
Store-in-Store
Because store-in-store locations are typically open on four sides, capturing accurate traffic and behavior metrics is more technically challenging than it would be in a traditional doorway or front entrance. By enabling the simultaneous reporting of behavior metrics across up to 32 zones, as well as Path Linking of data from up to three devices, the enhanced Brickstream Smart Device software empowers users to obtain seamless coverage of larger areas (depending on ceiling height)—even in challenging or difficult to cover locations. (Previous versions of Brickstream Smart Device software supported up to 6 zones.)
Brickstream Device Manager
Brickstream Device Manager 1.5 allows customers and partners to remotely configure, update, monitor and troubleshoot Brickstream Smart Devices wherever they are installed, serving as an easy-to-use "command and control center" for behavior intelligence deployments. This release includes a new Web application that facilitates device monitoring and reporting from a browser or mobile device, support for the remote configuration of 32 zones within a single Brickstream Smart Device, as well as a search filter that enables users to search for devices by name or type.
"We have to monitor many thousands of Brickstream Smart Devices that are deployed in conjunction with our 'Site Analytics' platform in dozens of countries," said Karl Marshall, Global Implementation Manager for Experian FootFall, a leading provider of retail site analytics and Brickstream resell partner. "With such a geographically diverse installed base, a centralized management tool is essential. Brickstream Device Manager 1.5 allows our people to efficiently configure, validate and manage the Brickstream Smart Devices to ensure that we are consistently and accurately capturing the information needed to deliver leading edge retail analytics."
Brickstream Device Manager 1.5 allows Experian FootFall to segregate and manage Brickstream Smart Devices by client, region and individual sites.
Notable features of Brickstream Device Manager 1.5 include:

Mobile-friendly web interface – View any Brickstream Smart Device using a mobile phone/device, and schedule video captures and other frequently performed tasks. View by individual installation, zone, site, region or across an entire network.
Central dashboard console – Perform real-time or scheduled configuration and maintenance on all devices in the network.
Device monitoring – Instantly see which Brickstream Smart Devices are online and which are not, and when they last transmitted data.
Video streaming – Stream video from one or multiple Brickstream Smart Devices simultaneously. Provides a real-time view of what's happening at an installation site.
Image management – Verify that each Brickstream Smart Device is positioned correctly and troubleshoot when unexpected objects (such as signs or seasonal decorations) block views.
Device configuration – View, export, save and compare configurations for multiple Brickstream Smart Devices. Control devices at single locations, as well as across regional or global installations.
Zone creation and configuration – Create, edit, and delete data capture zones (i.e., specific areas tracked by a single Brickstream Smart Device) and import/export zone configurations. Brickstream Device Manager 1.5 allows for the simultaneous configuration of up to 32 unique zones.
Task management – Automate bulk operations such as data delivery, scheduling image and video captures for data validation, configuring video quality settings and more.
"With Brickstream Device Manager 1.5, users can remotely configure, manage and adjust our Brickstream Smart Devices without having to 'touch' every single installation," said Steve Jeffery, CEO of Brickstream. "This offers a huge savings in time and efficiency for our customers and partners, especially as we've added more features that make searching for, accessing, configuring and managing devices more simple and convenient than ever."
About Brickstream
Brickstream is a leading provider of behavior intelligence solutions for understanding human behavior in the places where people shop, gather, work and play. Brickstream's technology intelligently collects, integrates and analyzes data related to the actions of people as they enter, move through and exit an environment, delivering the equivalent of clickstream analytics for the brick-and-mortar world. Premier retailers, grocery chains, hospitals, banks and others use Brickstream to understand more about their customers and visitors, and draw on the insight gained to enhance customer service, optimize resources, and maximize economic opportunities in real-time. Headquartered in Atlanta, Brickstream has the largest installed base of 3D smart devices worldwide, a global network of partners, and regional offices in Europe and Asia. For more information, visit brickstream's website or follow Brickstream on twitter @brickstream.