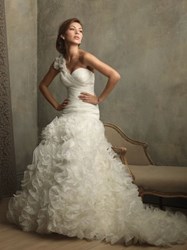 Baldwin, NY (PRWEB) January 07, 2014
The Bridal World is proud of its status as a premier retailer for Off the Rack Bridal Gowns, Sample Wedding Gowns and Ready to Wear Bridal Dresses. The Bridal World salon welcomes the last minute bride in search of a dream dress, and is ready to help find it with many styles to choose from. Supplied with an extensive store and limitless selection of dresses, The Bridal World is certain to have an incredible gown to meet any bride's needs at an unbeatable price.
Every season, as manufacturers' discontinue styles to make room for new designs, The Bridal World sorts these now one of a kind dresses onto the Sample Gown Racks. Sorted by size, these dresses are deeply discounted and waiting to be matched to their perfect owner. In like new condition, these off the rack dresses exhibit a wide variety of shapes, fabrics and necklines waiting to be claimed by the savvy bride on a budget, or a bride seeking a dress she can leave the store with the same day.
One of the best aspects about buying a sample bridal dress (apart from the unbelievable price – many are as low as $500) is the fact that it practically guarantees that a bride will be wearing a gown that is unique. A sample dress is a hard to find bridal gown; the style is no longer in production, guaranteeing that its owner will not have seen it before at another wedding. In addition, it must be a good size and perfect color to suit the bride's needs, making it that much more of a special and sentimental purchase.
The Bridal World's selection does not stop there, however. In the collection are also some truly unique gems: gowns that were created as couture pieces for Runway Fashion Shows. These outstanding dresses are the epitome of fashion, and many brides wearing these gowns appear to belong on the cover of a bridal magazine. There is no better way to make a statement at your wedding than by selecting a gown that would make any fashionista envious.
The Bridal World's excellent and caring consultants are eager to help every fashionable and budget conscious bride find the perfect upcycled wedding gown. Make an appointment today.
About: The only Salon catering fully to Bridal needs in Baldwin, NY, The Bridal World was founded in May 2005. Offering Bridal, Bridesmaid, Mother of the Bride, Flower Girl, Sweet 16, Bat Mitzvah and Prom Styles, the Bridal World takes the stress out of finding the perfect dress by offering a wide variety of styles such as Mermaid, Fit and Flare, Ball Gown, and A-line in a luxurious range of fabrics such as Organza, Lace Overlay, Silk and Satin. The Bridal World also offers an exceptional selection of accessories such as Veils, Corset Bras, Jewelry and Bridal Belts. For more information on The Bridal World, visit http://www.thebridalworld.com. Follow them on Twitter (@BridalWorldNY), on Pinterest (/thebridalworld/) and find them on Facebook (/TheBridalWorld).