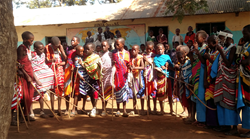 Five months into studying abroad in Tanzania, Sam, Reid and Tate Vaughan have raised more than $13,000 for urgently-needed projects near Kilimanjaro, Tanzania
MENLO PARK, Calif. and MOSHI, Tanzania (PRWEB) May 26, 2015
Since arriving in Moshi, Tanzania in January, Menlo Park students Sam, Reid and Tate Vaughan have adjusted to their surroundings and earned some serious commitment cred with projects they took on to help a community near Mount Kilimanjaro. The Vaughan children and their parents, Laura and Brannan Vaughan, chose the Moshi community for a six-month journey to immerse themselves in Swahili culture and give something back.
Five months in, the Vaughan children have established the non-profit charitable fund bridgepipelunch.org and raised more than $13,000 to help repair a bridge on the verge of collapse, install a mile long water pipe to supply water to Mlima Shabaha Public Elementary School near Moshi, and provide daily lunches for 150 Mlima Shabaha students who had previously gone without food throughout the long school days. Their efforts have been so successful, they have taken on two new projects - a lunch program for the Sanya Station School near Kilimanjaro, and a roof repair project, also for Sanya Station School.
The German-American International School in Menlo Park joined in the fundraising to support their classmates' projects on behalf of the Kilimanjaro community. In addition, the Nativity School in Menlo Park, California has also stepped up with a commitment to raise $3,000 through its "Nativity Feeds" program for the Sanya Station School's student lunch program. As was the case with the Mlima Shabaha School students, parents of the Sanya Station School students are struggling to provide food for their families at home, and the additional school fees are simply out of reach for most, if not all of them.
As a result, students go without any food during the entire school day, which lasts from 7 a.m. to 2:40 p.m. Nativity Church Cantors Alexander and Luke Edward, along with Nativity School students have volunteered to raise funds to provide a lunch of corn and beans to 500 Sanya Station School students for one full year.
Additionally, the Vaughan family has sent Tanzanian crafts, including handmade bracelets, beads and purses, to the school for the fundraising effort.
To donate or find out more about the Vaughan's charitable projects in Tanzania, visit the bridgepipelunch.org website, email info(at)bridgepipelunch(dot)org, or call media contact Liz Ernst in the U.S. at 813.965.4373.
About bridgepipelunch.org:
Silicon Valley financial advisor Brannan Vaughan, his wife Laura and their three sons established the bridgepipelunch.org charitable campaign after traveling to Moshi, Tanzania in January, 2015 for a six-month stay. Their plan was to enroll their children in the local international school and immerse themselves in regional culture.
Upon researching the needs of the Moshi community, the family hunted for a service project that could improve living conditions and provide an opportunity to give back to their adopted community. The Vaughan children—Sam, 13, Reid, 11 and Tate, 10—took on three ambitious projects and raised more than $13,000 to repair a collapsing bridge, install a mile-long water pipe to provide water to a local school, and to fund a school lunch program for Mlima Shabaha School near Moshi. Classmates from their hometown schools in Menlo Park, California joined the fundraising efforts and the bridgepipelunch.org campaign is going viral.
Brannan and Laura Vaughan are establishing a 501(c)(3) called "Lalafofofo," which means "sleep peacefully" in Swahili, to continue managing donations and projects even after they return to the U.S. The Vaughans have also set up crowdfunding websites for each of the current projects.
###