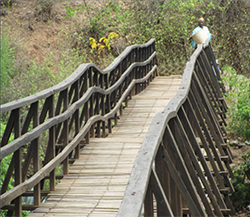 In their search for a study abroad location, the couple chose Moshi, Tanzania near Mt Kilimanjaro for its rich culture, exotic wildlife, and gentle residents.
MENLO PARK, Calif. and MOSHI, Tanzania (PRWEB) May 18, 2015
A Silicon Valley couple and their three children have launched the bridgepipelunch.org website to benefit the Kilimanjaro area of Tanzania. The website name comes from a series of projects the family took on to help improve the lives of the Moshi community.
After years spent traveling the world for adventure and fun, Morgan Stanley financial advisor Brannan Vaughan, his wife Laura and their three sons have taken on a different kind of adventure to a place that offers rich rewards but few creature comforts. In their search for a study abroad location, the couple chose Moshi, Tanzania near Mt Kilimanjaro for its rich culture, exotic wildlife, and gentle residents.
The plan was to have the boys attend the local international school and immerse themselves in regional culture. They also planned to research the needs of the Moshi community to find a service project with which the family could become involved during their visit, something that could improve living conditions and provide an opportunity to give back to their adopted community. Before they knew it, the Vaughan children—Sam, 13, Reid, 11 and Tate, 10—had found three problems that made life near Moshi a struggle, and decided to take them on.
Living in Moshi was an eye-opening experience for the Vaughans, who soon learned to cope with routine electrical outages, bucket showers, insects and unpredictable weather. However, the real challenge was living in an area so blighted by poverty, the potential projects available to them were many, and all seemed pressing. The decision was made to allow each boy to search out his own individual project to work on, with the parents providing organizational and website support to back them.
Tate Vaughan, a fourth grader at the German-American International School in Menlo Park back in the U.S., took on a bridge that was on the verge of collapse for his project. The bridge provides a critical pathway for locals who depend on it to cross the Weruweru River, which swells in the March-May rains. Without the bridge, people in the neighboring village of Kimashuku would be forced to risk swimming across the river to get supplies. Tate set a goal to raise $5,000 for bridge re-construction; donations have exceeded $6,000.
Reid Vaughan, a fifth grader at Nativity School in Menlo Park, was surprised to learn that Mlima Shabaha Public Elementary School 15 miles west of Moshi had no independent water supply. Local children attending the school had to carry containers of water with them each day, some as far as two miles, to make sure the students had water to drink and wash with during the day. Reid committed to raising $2,500 to build a mile long water pipe to the school. He has raised more than $3,000 to date.
The Vaughan's eldest son Sam learned that students at Mlima Shabaha School had nothing to eat during the long school days, so he decided to support a school lunch program for the students. While focusing on the project, Sam learned that simply serving lunch can have a transformative effect; school attendance and student performance improved. He committed to raise $1,500 each year for the foreseeable future, to buy enough corn, beans, salt and oil for 150 students to receive a school lunch every day throughout the academic year.
To date, the Vaughan brothers have raised almost $13,000 and added two more projects to their commitment roster: a lunch program for nearby Sanya Station School, and a roof repair project, also for the Sanya Station School. Meanwhile, Brannan and Laura Vaughan are establishing a 501(c)(3) called "Lalafofofo," which means "sleep peacefully" in Swahili, to continue managing donations and projects even after they return to the U.S. The Vaughans have also set up crowdfunding websites for each of the current projects.
To donate or find out more about the Vaughan's charitable projects in Tanzania, visit the bridgepipelunch.org website, email info(at)bridgepipelunch(dot)org, or call media contact Liz Ernst in the U.S. at 813.965.4373.
###