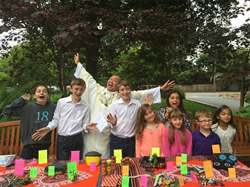 Providing a midday meal for these impoverished students improves their overall health, boosts academic performance and encourages increased school attendance.
MENLO PARK, Calif., and MOSHI, Tanzania (PRWEB) June 10, 2015
Students at the Sanya Station School near Kilimanjaro, Tanzania who previously endured their long school days without the nourishment of a midday meal won't go hungry at lunchtime again. Thanks to the fundraising efforts of a group of children at the Nativity School in Menlo Park on behalf of the bridgepipelunch.com, campaign, Sanya Station School students will have enough food to eat lunch every day through 2018.
The Catholic School student volunteers and two Cantors from the affiliated Nativity Church set out to raise $3,000 to fund the student lunch program for one year, but ended up raising more than $9,000—enough to provide Sanya Station School's 500 students a daily meal of corn and beans for three full years.
The fundraising effort began as a satellite program to augment the fundraising operations of Brannan and Laura Vaughan and their three sons, Sam, 14, Reid, 11 and Tate, 10. The Silicon Valley family arrived in Moshi, Tanzania in January for a semester abroad and to establish a charitable organization to benefit struggling communities outside of Moshi. Initially, the Vaughan boys each adopted a project that they felt would have an immediate and positive impact, and proceeded to raise money to fund their completion.
Tate Vaughan chose a collapsing bridge in Kimashuku and raised more than $6,000 for its repair; Reid Vaughan discovered that the local Mlima Shabaha School had no source of water and set about to raise more than $3,000 for the installation of a mile-long pipe to deliver clean water to the school. Sam Vaughan discovered that the Mlima Shabaha students were going without lunch due to economic hardships, and raised almost $2,300 to establish a school lunch program there.
In the process of searching for new challenges to add to their Tanzania campaign, now called "bridge pipe lunch" after the first three projects, the family discovered the Sanya Station School near neighboring Kilimanjaro and a series of problems facing students there as well. Most pressing, like the Mlima Shabaha School, Sanya Station students were doing without lunch every day.
According to the Maasai School elder Abraham, providing a midday meal for these impoverished students improves their overall health, boosts academic performance and encourages increased school attendance.
Thanks to Laura Vaughan's regular blogs and social media updates on the needs of the local communities, friends and supporters in their Menlo Park community 10,000 miles away were eager to become involved.
The Harding-Bradley family of Menlo Park also donated $1,500 to replace the Sanya School's deteriorating, leaky roof. As the bridgepipelunch.org campaign gains notoriety, more of the Vaughan's Silicon Valley neighbors are stepping up to help the Vaughans improve the quality of life for the people of Kilimanjaro, Tanzania.
To donate or find out more about the Vaughan's charitable projects in Tanzania, visit the bridgepipelunch.org website, email info(AT)bridgepipelunch.org, or call media contact Liz Ernst in the U.S. at 813.965.4373.
About bridgepipelunch.org:
Silicon Valley financial advisor Brannan Vaughan, his wife Laura and their three sons arrived in Moshi, Tanzania in January, 2015 for a six-month stay. Their plan was to enroll their children in the local international school, immerse themselves in regional culture, and establish a charitable organization to help improve living conditions for the local community.
The family hunted for a service project to take on, and the Vaughan children—Sam, 14, Reid, 11 and Tate, 10—found three. In less than five months, they raised more than $13,000 to repair a collapsing bridge in Kimashuku, install a mile-long water pipe to provide water to a local school, and to fund a school lunch program for the Mlima Shabaha School near Moshi. Classmates from their hometown schools in Menlo Park, California joined the fundraising efforts, and the bridgepipelunch.org campaign is going viral.
Brannan and Laura Vaughan are keeping the momentum alive by establishing a 501(c)(3) called "Lalafofofo," which means "sleep peacefully" in Swahili, to continue managing donations and projects even after they return to the U.S. The Vaughans have also set up crowdfunding websites for each of the current projects.
###