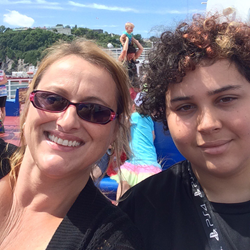 We're passionate about activating visibility and support for the beneficiaries of our Community Program.
Bridgeport, CT (PRWEB) September 21, 2017
Moran Insurance Agencies of greater Bridgeport, CT has announced the initiation of a master charity program created to strengthen the community it serves. The agency pledges to select a new beneficiary every 60 days, by working closely with nonprofit organizations and community leaders to seek out those who most need help. Their hope is to bring awareness to important local causes by forming campaigns which aid worthwhile organizations, families and individuals.
To debut the new community involvement program, Nate Moran, owner of Moran Insurance Agencies, has elected to extend a helping hand to someone who is a true community role model. Carmela Williams is a single mother of two who has been active in the Bridgeport community. She was also a faithful employee of 12 years when her company was sold, and in the inevitable shuffle, she lost her job. With an ex-husband who has ceased providing child support and her employment benefits coming to an end, it has been an emotional and financial challenge. Her 15-year-old son who is still at home is a model teenager, an honor student who is also taking college courses, and Carmela worries about keeping a roof over his head.
"We're passionate about activating visibility and support for the beneficiaries of our Community Program," said Moran. To accomplish this, the team at Moran Insurance will spread the word of Carmela's plight through its network of customers, business associates, neighbors and friends, and the donations page for this and future campaigns will be accompanied by a fully detailed story outlining each cause. To join the agency in support of this struggling local family, donors may visit http://moraninsuranceagencies.com/causes/giving-helping-hand-single-mom/ and are asked to share the page with their own contacts.
The agency also produces a monthly publication, Our Hometown magazine, which will use a full page to feature all Community Causes. The electronic Flipbook version of the current and all future issues may be enjoyed at http://moraninsuranceagencies.com/magazines/.
About Moran Insurance Agencies
A full-service insurance and financial services provider serving families and businesses from offices in Bridgeport, CT, agency owner Nate Moran knows many local families. This knowledge and understanding of the community's people help him to provide customers with an outstanding level of service. Moran and his team of dedicated professionals work diligently to help families protect the things which are most important to them – their families, homes, businesses, cars and more. They also prepare strategies to help clients achieve long-term financial goals. Further information is available at http://moraninsuranceagencies.com/. To speak with a caring expert, please call 203-864-6232