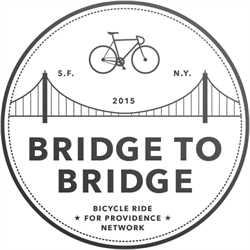 This trip is a chance for me to give back by raising money and awareness for an organization that I really believe in
Golden, Co (PRWEB) March 25, 2015
Craters & Freighters, the nation's leading specialty packaging and shipping company is sponsoring Spencer Nee, a Colorado resident, bicycle enthusiast and former homeless man. Spencer rebuilt his life with the help and support of Denver's Providence Network, a nonprofit organization devoted to providing transitional housing to the homeless struggling with addictions giving hope to kids and families in need.
Diane Gibson, CEO of Craters & Freighter is a longtime board member and corporate sponsor of Providence Network. "Spencer's story is one of courage and gives hope to anyone facing similar challenges. We are proud to be part of this campaign and rooting for Spencer to achieve this dream," commented Ms. Gibson.
ABOUT THE TRIP
The Fundraiser is called Bridge to Bridge, a 4,000 mile coast to coast bicycle trip across the United States organized by former Providence Network resident, Spencer Nee. Between May and August, Spencer will be riding from the Golden Gate Bridge to the Brooklyn Bridge with the goal of raising upwards of $100,000 in mileage pledges for Providence Network. He hopes to find compassionate guest riders to join him as he rides through cities and towns across the country. The money raised through this ride will support Providence Network's effort to focus on the growing homeless population of youth and young adults. Currently there are close to 1,000 teens living on the downtown streets in Denver without food and shelter. The money raised will make an immediate impact.
The coast to coast bike ride was organized by Mr. Nee, in effort to give back to the organization that might well have saved his life. "I had lost my way as years of bad decisions and alcoholism had stripped me from my family, home, friends, jobs, health, dreams, and hope. At the moment I decided to change I found Providence Network. Through their help, I have restored my relationships with family and friends and have rebuilt my life," says Spencer Nee. "This trip is a chance for me to give back by raising money and awareness of the problem and for an organization that I really believe in — one that gave me the structure and support I have needed to live the last six years (and counting) sober."
DONATE HERE: https://www.coloradogives.org/bridgetobridgeride
MORE INFO HERE: http://www.bridgetobridgeride.com/
MAP OF TRIP (RIDE WITH SPENCER!) http://www.bridgetobridgeride.com/routeandmap/
ABOUT PROVIDENCE NETWORK
Providence Network is a 501(c) 3 faith-based, urban transformational housing organization that helps men, women and families heal from addictions, abuse and homelessness to become self-sufficient, productive members of the community.
MORE INFO HERE: http://providencenetwork.org/
ABOUT CRATERS & FREIGHTERS
Craters & Freighters was founded in June 1990 to meet the needs of businesses and consumers for specialty freight handling including pick-up, crating, shipping, packaging, tracking, insuring, and delivery of shipments that are too heavy, oversized, valuable, awkward, and time-sensitive for other shipping agencies. The company serves consumers and businesses in all sectors including telecommunications, electronics, medical equipment, aerospace, biotechnology, and heavy machinery. With expertise that delivers, the company dominates the specialty freight industry.
MORE INFO HERE http://www.cratersandfreighters.com