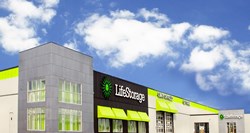 It's great to see people buying, selling and exchanging items that they find at these events and we generally have a great turnout.
Bridgeview, IL (PRWEB) September 24, 2013
LifeStorage, a Chicago-based self-storage provider for residential and commercial clientele, hosted Bridgeview Treasure Days, a Garage Sale Event, on Saturday, September 21 and Sunday, September 22, at its Bridgeview location, located at 7700 W 79th Street in Bridgeview, IL 60455. The event took place from 8 a.m. to 4 p.m. on both days.
LifeStorage clients in the Bridgeview were encouraged to attend this event as a way to clean out their storage space of unwanted items, sell objects or buy things from others in a social setting. The Village of Bridgeview has waived all permits or fees generally required for this type of event and there is no cost to participate. Sellers had provide their own tables and chairs and were welcome to sell to any attendees who approach them.
"The purpose of hosting a garage sale event such as this is really twofold, as a way to help people undertake a major clean-out before the winter months set in and a way to bring people in the community together in a social setting," said Nancy Warrer Lead Manager for LifeStorage. "It's great to see people buying, selling and exchanging items that they find at these events and we generally have a great turnout."
The event was open to both LifeStorage customers of the Bridgeview location and community members alike. For the company, giving back to its customers is a core value, as is giving back to the community as a whole. By holding Garage Sale Events, LifeStorage allows customers to clean out some space from their units, and community members to clean out space from their homes and garages. It's also a great way for those unfamiliar with the company to come and see what great storage at affordable prices looks like, through a high-end approach to self-storage.
To learn more about LifeStorage of Bridgeview or to get more information on LifeStorage or its policies, please log on to http://www.lifestorage.com.
About LifeStorage
LifeStorage was founded in 2002 with a single storage facility and has since grown to 39 storage facilities in eight states. LifeStorage provides individuals, businesses and government agencies with short-term and long-term storage opportunities. The company believes that with its premier customer service and state-of-the-art storage facilities, it provides the best storage experience in the United States. LifeStorage offers competitive move-in specials for new customers, along with some of the best self storage benefits in the industry.